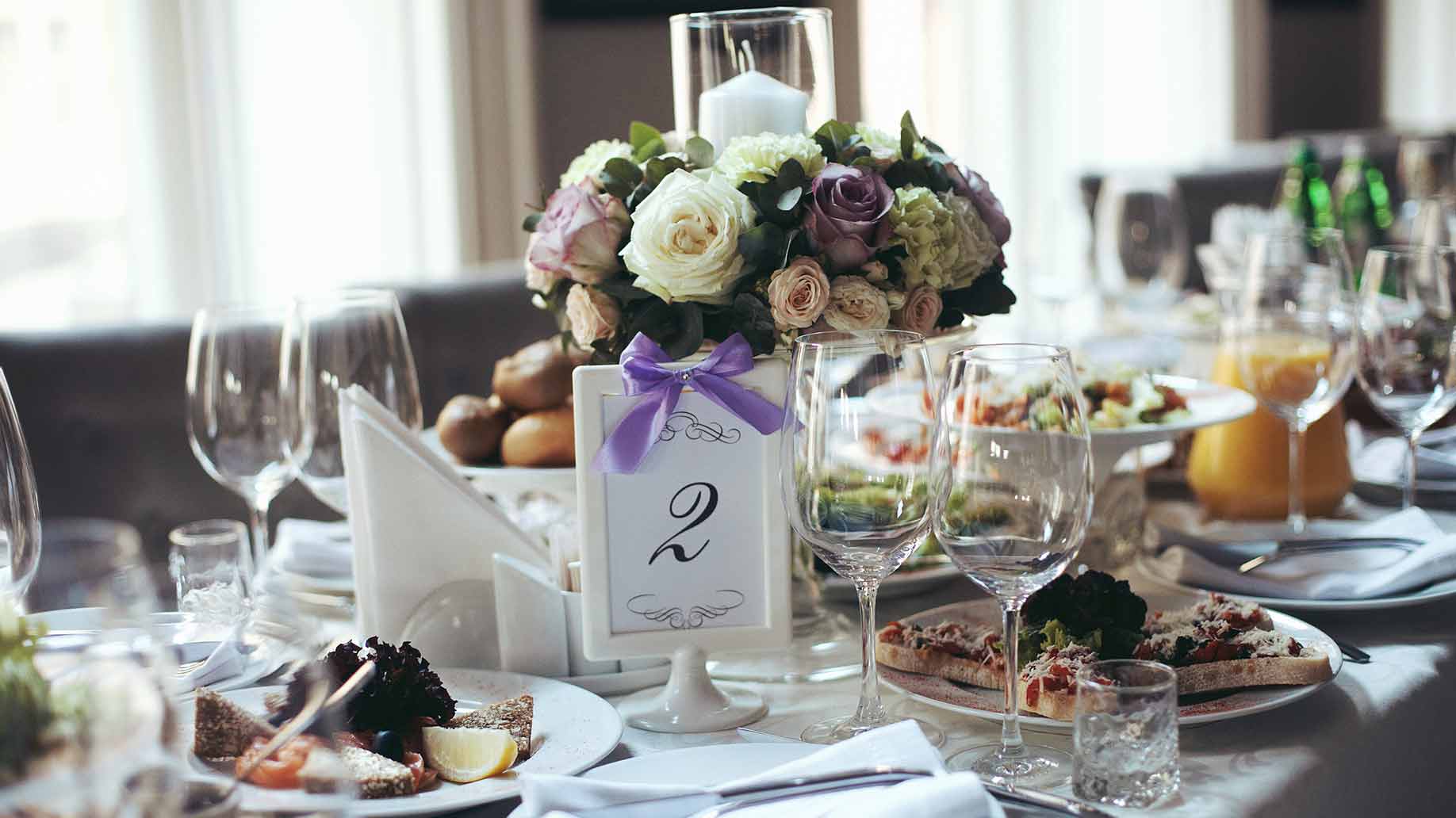 Ballpark Estimate: $40 to $125+ per person
When your marriage vows are said and done, you'll want to offer your wedding guests a celebratory meal that they won't soon forget. Whether you want a cocktail reception with passed hor doeurves, a casual buffet with a medley of foods or an elegant sit-down dinner, hiring the right wedding caterer can make your big day truly delicious.
Options
Maybe you're planning a small gathering of 30 of your closest family and friends, or perhaps you're going all out and inviting 250 guests. Regardless of your preferences, you'll want to find a wedding caterer who can help you plan your ideal event. Keep in mind that your wedding food will be the biggest expense at your event, so you'll want to be sure that the wedding caterer you select will be well worth the investment.
What to Look For
If you're getting married in a hotel or catering hall, the location may have catering staff right on site. Some places will require you to use their chefs and staff, while others will allow you to bring in an outside vendor. (Both options come out to be about the same expense.) If you're going the latter route, there are many ways to locate a good wedding caterer in your area. You can ask colleagues and friends for recommendations, or you use some of the wedding resources available online, such as try Martha Stewart, The Knot, and Weddings.com. You can also use catering websites like LocalCatering.com. These and other sites offer searchable directories that include local vendors, as well as information and advice on this topic.
Find the Right Fit
When meeting with a wedding caterer, there are many things you'll want to consider. First, you'll need to find someone very experienced with important events and who is fully licensed and insured. Your wedding caterer will also need to be able to work within the confines of the facility you've selected for your event. This means that if they plan to cook on site, it's important that the kitchen will have adequate space and equipment for their needs. Or if your wedding caterer will bring the food already prepared, he'll need to be able to keep it warm and serve it efficiently.
Then of course there's also the style of the wedding caterer's food. Whether you want Italian food, Asian fusion or traditional Jewish cooking, you'll want to look for someone who prepares the style and taste you desire.
Other Considerations
There are also a host of other details to discuss with wedding caterers. For instance, you'll want to look at their sample menus, address your budget and the size of your event, discuss special dietary needs among your guests, determine food for the cocktail hour, decide if alcohol will be served and if so, what types and how the cost will be addressed. You'll also need to talk about the logistics, such as whether they will provide or rent tables, chairs, linens, china and silverware for you, and whether they provide the servers and bartenders, too. Some wedding caterers include all of these expenses in their quote, and others treat them separately, or leave them for you to arrange yourself. (Which can add more work than you want to handle, so thing twice before taking on this role.) Most wedding caterers will charge extra fees for wine corking and cake cutting, too, so be sure to ask about these important points.
A Matter of Taste
Many wedding caterers will offer a tasting session so you can sample some of the dishes in advance. This is your chance to let your taste buds do their thing and make sure that the style, taste and presentation of the food is to your liking.
What It Costs for a Wedding Caterer
When comparing the price of wedding caterers, remember that just as is the case in restaurants, there will be a wide range of variation depending on the experience and food quality that each company brings to the table.
Some wedding caterers will charge by the item, while others will offer one flat per person rate. Some include the tax, tip and over-time charges in their quote, while others won't count these expenses in and you'll have to add extra room in your budget to cover them. Make sure your wedding caterer lists all of the fine details in your contract so you won't have any questions or uncertainties. Once you account for different quoting styles, you'll need to add everything together and ensure you're comparing like quotes from one wedding caterer to the next.
Here are some sample scenarios of what you can expect to spend on a wedding caterer:
On the lower end, a very simple wedding reception with serve-yourself food (either buffet style or in stations) and a limited bar can be in the $40 to $75 a person price range.
Many couples aim for something a little more elaborate, opting for a simple sit-down dinner, and cocktail hour. This can be in the price range of$75 to $125 per guest, depending on exactly what you select.
If you are planning an upscale event with a more formal cocktail hour, multi-course dinner and full bar, though, you can expect the price to be even higher, coming in between $150 and $400 a person.
It's also worth noting that if you live in big city such as New York City, Boston, Los Angeles or San Francisco, you can also expect to pay on the higher end of the price scale for your wedding caterer. These prices should include tax and gratuity (often from 15 to 20 percent), although you'll probably want to add on an extra tip if the service is excellent.
Many couples spend between $75 and $125 on food and drink expenses for each guest, but a wide range of higher and lower options exist.
Ways to Save
If you want to save on your wedding catering budget without sacrificing taste, there are some easy things you can do to help reign in the costs. Plan a casual brunch or luncheon instead of a formal dinner. Not only will this save on food, but it can also help keep alcohol costs down. Have food available at different stations so guests can help themselves instead of being served. This keeps wait staff to a minimum. You can also plan to skip some of the extras. Offer only beer and wine if you have an open bar, and limit your food courses to a few well-chosen selections and forego the extras like freshly made crepes, a soup course and a dessert bar. Most guests won't miss these details and your pocketbook will thank you.