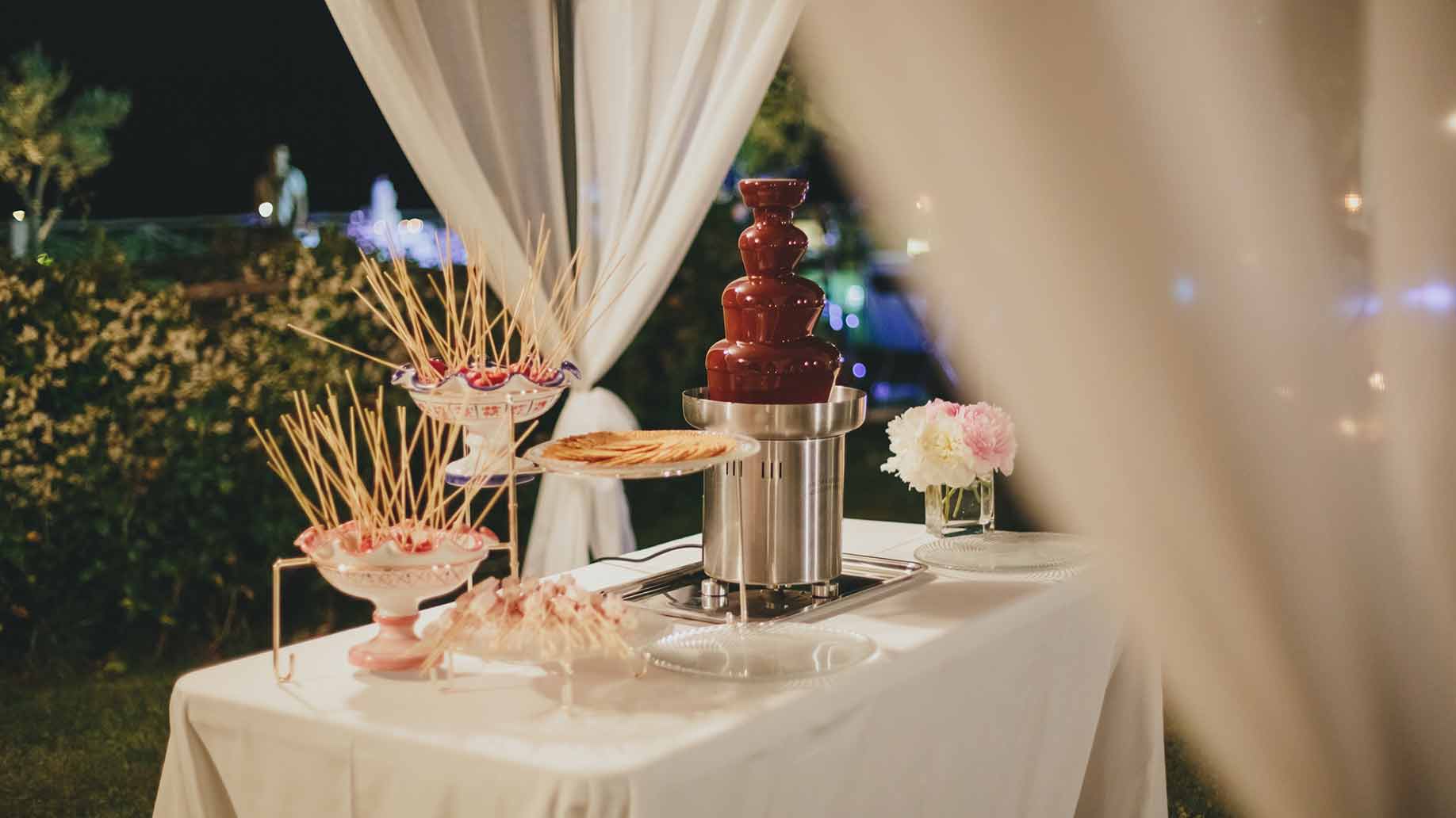 Ballpark Estimate: $300 to $1,000
Love chocolate? Who doesn't! That's why some couples splurge on having a chocolate fountain at their wedding receptions.
Make Your Own Decadence
In the classic movie Willy Wonka and the Chocolate Factory (or the modern remake, Charlie and the Chocolate Factory), the visitors to the chocolate factory are delighted by the array of sweets that surround them. You can capture a bit of this decadence at your own event with the presence of the chocolate fountain. (Hopefully your guests will be more restrained than most of the movie characters!)
What's in a Name
As the name implies, a chocolate fountain is similar to a water fountain except that it's flowing with yummy chocolate instead of water. The foundation structure consists of a basin, along with multiple tiers and a motor that helps to help chocolate to melt and then flow down the slide-like structure. This allows your guests to dip special goodies, almost like a fondue but much, much better.
Decisions, Decisions
When you rent a chocolate fountain, you'll have some decisions to make. You'll need to select the type of chocolate you prefer to use in your fountain, such as milk, dark or white varieties. Some couples even provide multiple chocolate fountains with several flavor options.
You'll also need to select the types of foods to dip. The options that work well include:
Marshmallows
Cheese Cubes
Pretzels
Cookies
Mini donuts
Strawberries
Bananas
Oranges
Pineapple
Candy
If you're not sure exactly what types of foods to offer, you can work with your caterer to come up with some good choices. Generally, couples will select foods that go well together, such as all fresh or all dried fruit options, all cheeses or all sweets.
Choose Wisely
The main thing to think about when selecting food is to find something to won't fall apart on the skewer and leave pieces behind. That means that crumbly foods, such as brownies and cupcakes, wouldn't be a good fit for a chocolate fountain. But more solid items work extremely well.
Of course this doesn't mean you can't use the fountain with more delicate foods. However, if you want to add chocolate to cake, cookies or ice cream, instead of having them dipped you should use a ladle to have guests spoon the topping onto these fragile items.
Be Creative
When you rent a chocolate fountain, there are all sorts of creative extras you can add to give it your own unique touch. For instance, you can use a fountain topper, which is a silver bowl that is perched at the peak of the fountain. The chocolate can flow through this vessel for an added elegance. You can also incorporate your wedding flowers into the fountain display, which will give it a warmer, more personal feel. Some couples also take other ideas from their themes and have them used to accent the fountain in some way, such as perching butterflies on the fountain stand. Another idea is to color the chocolate to match your wedding colors. If your accents are lavender, you can have white chocolate tinted to match.
Hire an Attendant
To ensure that guests use the fountain correctly and hygienically, it's important to have an attendant overseeing the chocolate fountain station. This usually comes along with most fountain rental packages. This person should be responsible for keeping the area clean and also making sure the fountain remains filled and fresh. In addition, he should be charged with keeping your guests from touching the fountain directly with their hands or double dipping their food into it, since both options can spread germs.
Some wedding couples working on tight budgets have been tempted to rent their own chocolate fountain and buy the chocolate themselves to skip the middleman, but the experts say that you'll really want to let someone else handle these details, since a typical wedding-size chocolate fountain can weigh about 100 pounds and the set-up, operation and break down can be very time intensive.
How to Find
Chocolate fountains are easier to find today than ever. You can ask your catering company if they can provide a chocolate fountain as part of their dessert offering. Some companies own their own fountain or will be able to rent one for you. You should find out from the company which option they offer, and ensure the equipment they will provide will be up to the standards you desire. You can also search online wedding resource directories like The Knot, Brides, and Martha Stewart Weddings to locate vendors that offer chocolate fountains in your area. If you need some help finding some options, try the American Rental Association, Chocolate Fountain Search and Nationwide Chocolate Fountain Rentals.
What to Look For
When you hire a company to provide a chocolate fountain, you'll need to know how many guests you want to serve and how many food and chocolate options you'd like to offer. Fountains come in a range of sizes, so find out from the company what they recommend will work best for the size and goals of your specific event. It's also important to make sure that the equipment used meets the local health department standards.
What's Included
Most companies that provide full service chocolate fountains will include the equipment rental for several hours, along with the attendant to man the station and the set-up and clean up. Often the chocolate and skewers are included, as well as small plates and napkins. Note that the actual food to be dipped is usually not part of a chocolate fountain package, although it can often be provided at an additional charge. Otherwise, you should expect to have your caterer provide the food items.
What It Costs
The price of a chocolate fountain depends on what size you get, how long you have it, the quality of the chocolate provided, and whether the attendant is included in the package. Generally, a fountain that would serve 100 guests will run between $300 and $500, including everything except for the food items to be dipped. If you are having a larger affair, you may need a big sized fountain, which will set you back about $600 to $1,000. On the higher end, you should have a high-quality fountain and premium chocolate included. Expect this cost to go up by several hundred if you plan to have multiple fountains with different flavor options.
So most chocolate fountains cost between $300 and $1,000 depending on the size, quality and the length of time it will be in operation.
A Budget Option
If you love the idea of having a fountain but can't justify the expense at your event, you might consider buying a small home chocolate fountain, which you can find at most home goods and department stores for $100 or less. While this probably won't be big enough to accommodate all of your wedding guests, you might use it at the rehearsal dinner or other special activity leading up to your wedding or else register for this as a wedding gift that you can use for future celebrations.
Not Just for Chocolate
Chocolate fountains are the big trend right now, but who says you have to follow the crowd? Fountains can also work cheese sauce, dressings and barbecue sauce as well and can be the perfect choice for dipping cold vegetables, pretzels, fries and chicken tenders.