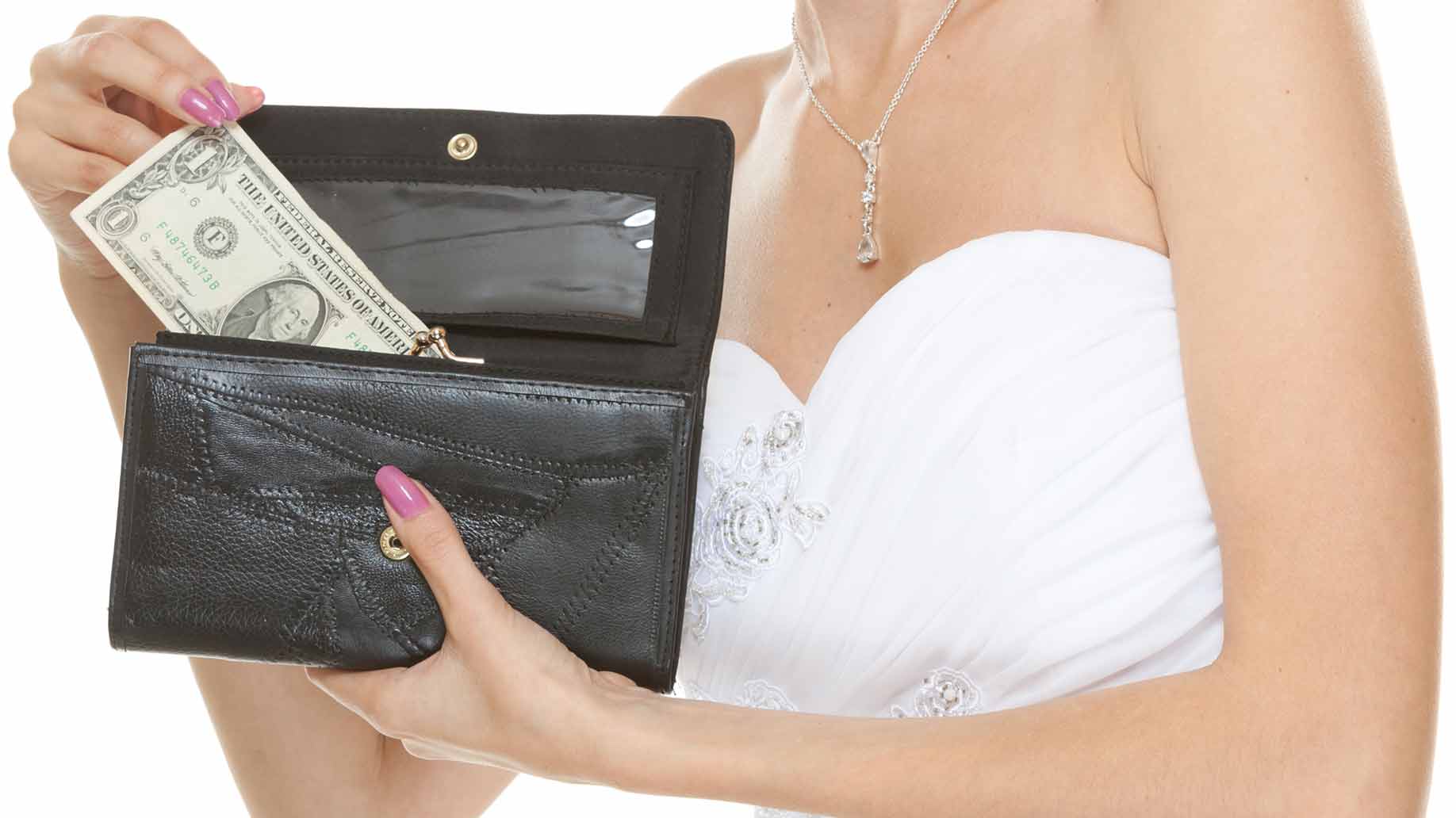 Ballpark Estimate: 15 to 20% of the cost for service
Want a tip is on how to ensure your wedding day is a complete success? Provide gratuities to your vendors in appreciation for their services rendered, and the sooner the better. Most newlyweds give tips at the end of their event but if you give yours toward the beginning, this special thank may encourage extra special service. You'll just need to budget for the expense, since you can easily spend several thousand dollars in gratuities when you add it all up.
Tipping Etiquette
When you're spending so much money for your food, cake and limo service, you may feel overwhelmed by the thought of needing to spend even more for the tips. If so, you certainly aren't alone. Many bridal couples feel strapped by all of the wedding-associated costs. Nonetheless, the custom of tipping is appropriate, and even expected, in many circumstances, so you'll need to know exactly who should get what.
Research Local Expectations
There are a number of people who will provide services for your wedding day, such as the officiant, the caterer, the DJ, the wedding planner and the baker. Some of them will expect you to tip them for their efforts, while others will be satisfied with a sincere thank you. How do you know which is which, though?
Who to tip and how much can vary in different parts of the country, so it's always important to find out the local standards. If you have a wedding planner, this person should be able to guide you. Otherwise, you can ask other newlyweds in your area for some recommendations. But always use your judgment as to what you think is best for each specific situation.
You can also do a search online for wedding tip suggestions or visit some of the popular wedding planning resources, including The Knot, Wedding Zone, and Brides.com.
Tipping 101
As a general rule of thumb, many experts say that those vendors who work for themselves often don't need to be tipped because they profit directly from your payment, while those that are employees who work for someone else may need to be tipped for their efforts. In either scenario, even if a tip isn't strictly necessary, if the person goes above and beyond your expectations to make your event special, it is usually a good idea to offer a little extra thank you.
Here are some general guidelines on the etiquette of tipping each vendor:
Wedding Planner
If you're lucky enough to have a wedding planner coordinating all of the details and making sure that everything goes perfectly on your wedding day, you'll certainly want to tip her if you're satisfied with the job. While a gratuity isn't completely necessary, many couples do feel it's important to reward someone this key planner for all of the work behind the scenes to make it all come together. (Further, the higher-end your event, the more generous you should be, increasing the percentage to 25%+ for a very lavish affair.)
15 % of service cost ($300 on $2,000)
Beauty Services
When you get your hair and makeup professionally done for your wedding, you'll want to tip the person or people who perform these all-important services. Just as you give a gratuity when you go to a beauty salon for a regular appointment, you'll want to do the same when you get this done for your big day. If you have two different people doing hair and makeup, be sure to tip each one separately. (Some people suggest that if you have someone come to your home or hotel to perform these services, you aren't required to tip because they are working on their own time rather than through a salon, but it's still not a bad idea to be generous if you're satisfied with the results.)
20 % ($60 on a $300 bill)
Officiant
Most officiants don't get a tip. In fact, it would be a breech of etiquette to tip clergy members, and a Justice of the Peace usually works for himself and therefore gets to keep your entire fee, so no additional amount is usually necessary. However, if your officiant is affiliated with a religious institution, you should make a donation. Most couples give between $50 and $500.
A Donation of $50 to $500 to the affiliated religious institution
Alter Boys
It's a nice touch to tip the alter boys. Most couples give them $10-$20 a person.
$10 to $20 each
Florist
The rule of thumb is that you don't need to tip the florist. However, you should tip the person who delivers the flowers to your venue and/or does any of the floral set-up. Plan to give about $10 a person. If there will be multiple deliveries (i.e., to your hotel, ceremony location and reception site), you should give more.
$10 or more for each person who delivers and sets up your flowers at your location(s)
Musicians
The music at your ceremony and reception will go a long way toward setting the mood of your wedding day. It can be a nice touch to give these specialists a tip to show your appreciation. An organist or soloist generally gets $50 to $100 and other musicians who perform at your ceremony should receive about $10 each. If you have a live band at your reception, expect to give each member up to $25, while a DJ should get $50 to $100.
$10 to $100 a person (see below for specifics)
Caterer
The caterer is one of your most important vendors, and as such, can make, or break, your wedding day. If you look closely at your contract, you'll probably notice that a service charge is included in your overall cost. It's important to ask your caterer what this charge includes and how much more is expected. You'll also need to ask if any gratuity is given to the wait staff, since they will be working very hard to serve all your guests. If not, you should plan to give 15 to 20 percent of the total food price to the wait staff to split.
15% to 20% for wait staff to split ($2,250 to $3,000 on a $15,000 tab)
Delivery Staff
You'll probably be too busy to think much about all of the people behind the scenes who make sure you have everything you need for your wedding ceremony and reception, but their efforts are actually invaluable, so make sure they don't go unappreciated.
Up to $10 for each person
Bartender
Your bartender also works hard on your wedding day and as such, deserves a special thank you. Just make sure that the gratuity isn't already added into your bill. If it's not, you should plan to tip 15 to 20 percent of the total cost of the liquor. (Of course if 10 percent is already added in, then you'll need to give a tip equal to between 5 and 10 percent of the bill on top of this.) If you have multiple bartenders, the tip is usually given to the head bartender so he can split it among the staff. Also, ask that a sign be put up at the bar that indicates that no tips from guests will be accepted.
15% to 20% of the cost of the liquor ($75 to $100 on $500 bill)
Photographer and Videographer
If the professionals behind the cameras work for themselves, you don't need to tip them. But if they work as employees of someone else, a tip of about 15 percent of the cost of their services is appropriate for each the photographer and the videographer. (If there is an assistant helping either of these experts, you should give the tip to the head person so he can split it accordingly.)
15% of the cost of each of their services ($150 on $1,000 bill)
Limousine Driver
The limousine driver should get a tip of 15 to 20 percent, as long as it hasn't already been added into the bill. Ask the limo company up front if this is included when you sign the contract. If it is included but is less than 20 percent, then you can make up the difference if you're pleased with the service you get. (If the driver offers extras, such as pouring champagne and rolling out a red carpet, then you'll probably want to be even more generous.)
15% to 20% of cost ($75 to $100 on a $500 tab)
Other Wedding Attendants
The parking valets typically get $1 per car, and the coatroom attendants $1 per guest. In both cases, you should ask them to put up signs instructing guests not to tip them.
$1 per car/guest
Logistics
If you have a wedding planner, you can ask this person to give out all of the tips to your vendors. To make this easy, simply provide sealed envelopes containing the tips that are labeled with each vendor's name. In most cases, you will know the number of guests and amount of the total bill, so you should be able to figure these out in advance.
You can give the wedding planner's own tip separately at the end of the night or send it in the mail later. If you don't have a planner, then you might ask the best man or father of the bride or groom to handle the job.
Money Isn't Everything
While money is certainly a nice tip for many vendors and will be quite appreciated, in some cases it's appropriate to send a note expressing your heartfelt thanks for the services performed instead. Some couples also include a gift certificate to a special restaurant, store or for a spa treatment, or send flowers with a nice note. Another option is to send a photo of the vendor in action at your wedding. In addition, it's always a nice touch to write a reference expressing your satisfaction that the vendor can use for other potential clients.