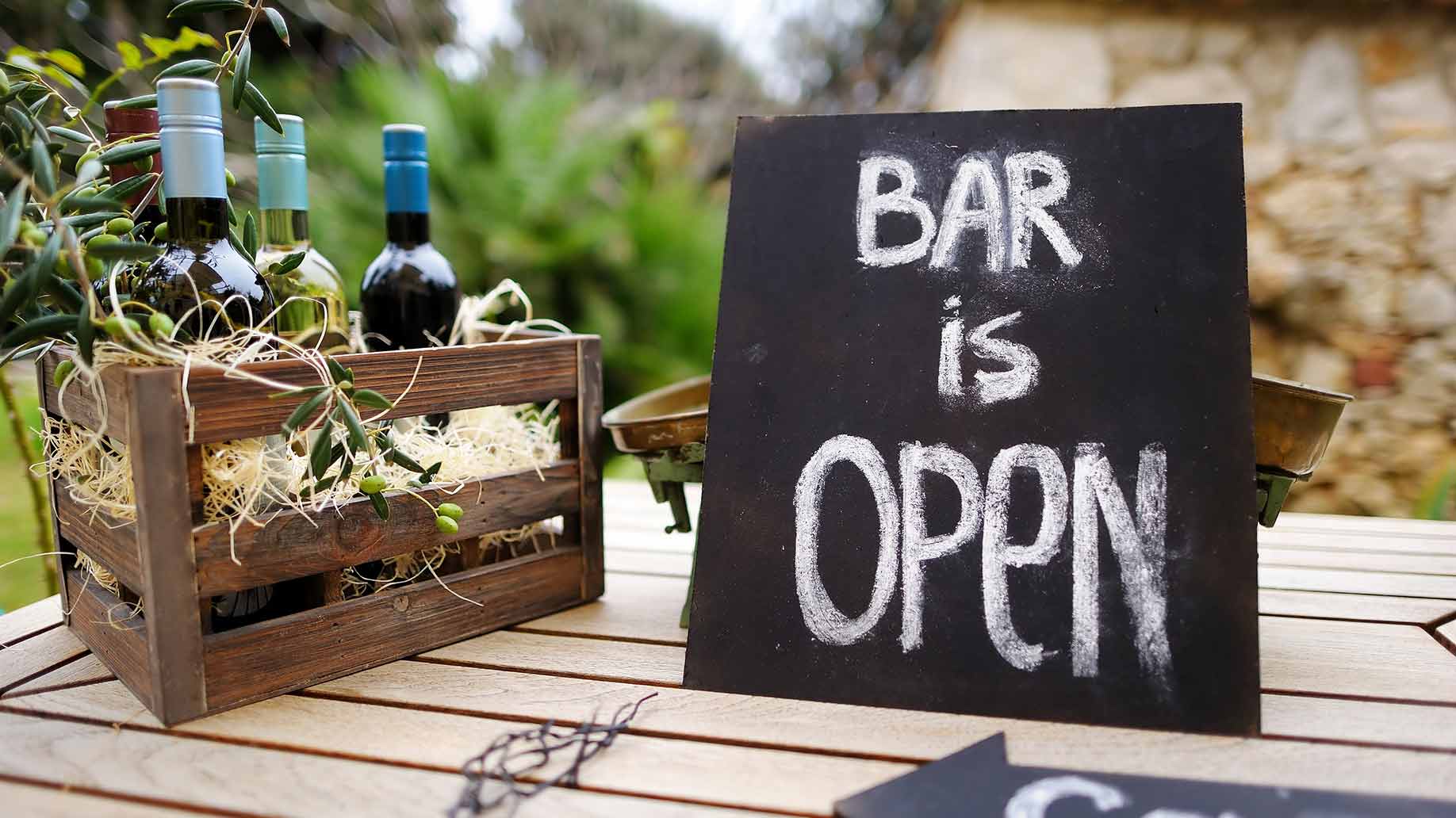 Ballpark Estimate: Between $15 to $35 a person
It probably goes without saying that for many of your friends, alcohol will be an important part of your wedding reception. So should you splurge and offer an open bar, or should you have them pay for their own drinks instead?
Providing alcohol for your guests can be one of the most expensive parts of your wedding, but it can also help make your event a success.
Open Bar Facts
In the past, an open bar was an expected part of most wedding events. In this scenario, the bridal couple pays the drink tab for all their guests. Today, paying for your guests' drinks follows the recommendation of most etiquette specialists. But with budget constraints looming larger than ever for many people, it's now become acceptable to provide non-alcoholic drinks only and have guests buy their own alcohol.
Financial and Legal Costs
You may not know it, but the decision as to whether you want an open bar at your wedding is much more than a financial one. There are also some liabilities to consider, too. You'll have to research your local and state laws, but if you have an open bar and one of your guests gets into a fight or an accident because of excessive alcohol consumption, as the host you may be held liable.
Beyond the legal angle, though, the cost can also be significant, too. Read on for some of the options to consider and what they can mean for you.
Different Options
Maybe you'd like to go with an open bar, but you can't afford to go all out and offer unlimited drinks for the entire reception. There are different ways you can modify what you offer to make it work within your budget. It just takes some creativity and flexibility in the planning process.
For instance, if you can't afford to have an unlimited open bar for your entire event, you can limit it just to the cocktail hour, or cocktail hour and dinner, then have a cash bar for the rest of the time. You can also have an open bar with your caterer's choice of liquor brands, rather than offering premium options, which can be more expensive.
Or, you can offer just beer and wine on the house, and if you want, you can make liquor available for sale. In addition, some bridal couples decide to offer signature drinks made especially for their wedding. You can do this exclusively or offer these for free and then also provide the option for guests to purchase other things.
These are just some of the creative ways to make an open bar work within your budget so you can treat your guests and not ask them to open their wallet after spending the money to travel to your event and also buying you a generous gift.
Payment Strategies and Considerations
In addition to deciding how you will handle the open bar offerings, you can also choose the arrangement as to how you will pay for this expense. Many caterers and restaurants will give you the option of settling on a per person rate either per hour or for the entire evening, or will allow you to pay for what your guests actually drink at the end of the night. Which way will end up being most cost effective can really depend on your audience and how and what they drink.
Some venues may also let you provide your own alcohol and run your own bar, which can save you money but cause you more trouble since you'll have to handle all of the details yourself.
Keep in mind that some of your guests may be heavy drinkers, consuming 3 or 4 drinks in the first hour, then hopefully slowing down. Others may drink just 1 or 2 drinks for the entire event. And then of course there are guests who will stick with soda and water and won't cost you much at all. How do you determine up front which situation you're dealing with when it comes to each person, though? You may be able to anticipate how many heavy and light drinkers you'll have, and assume that everyone else will fall somewhere in the middle. A general guideline for an event is to expect an average of three or four drinks per guests.
The time of day and formality of your event can also make the difference in what you will spend. Brunch, lunch and week-day weddings will often have less drinking, while Saturday night formal weddings can have heavier consumption overall.
What It Costs
Wonder what it costs for an open bar at your wedding reception? Where you live, what you serve, how long the bar is open, the time of week and hour, and the type of place where you have your reception can all greatly affect the price. To give you a very general range, though, you can expect to spend between $15 and $35 a person for drinks for your reception. This is usually for moderate drinkers and house brand liquors. Heavy drinkers and top shelve options could cost even more.
Tax and tip can be an additional charge, so you'll want to find this out up front. You may also have additional setup fees (this can be around $200 or more). If the bartenders' fees aren't included in your charge, this can be about $25 for each one. You'll also need to plan to tip the bartenders between 15 and 20 percent of the total cost of the alcohol.
That means that for 100 guests, you can expect to pay between $1,500 and $3,500 for the drinks themselves. If your bar bill is one the low end of the spectrum, the tip would be an additional $225 to $300, or if your tab is on the high end of the scale, it would be from $525 to $700.
So you can expect to spend between $1,500 and $3,500 +tip for a basic open bar for 100 guests, but more expensive options exist.
An Important Tip
When you host an open bar, you'll want to put out a sign saying that no tips are accepted from guests. This way your guests won't feel obligated to take out their wallets at all.
Find Out More
To learn more about hosting an open bar or to find out about running your own, you can talk to your caterer, ask your wedding reception site for information and advice or do a search online. Some of the wedding resources you can find on the Internet include The Knot, Wedding Channel, Brides and Instyle Weddings.