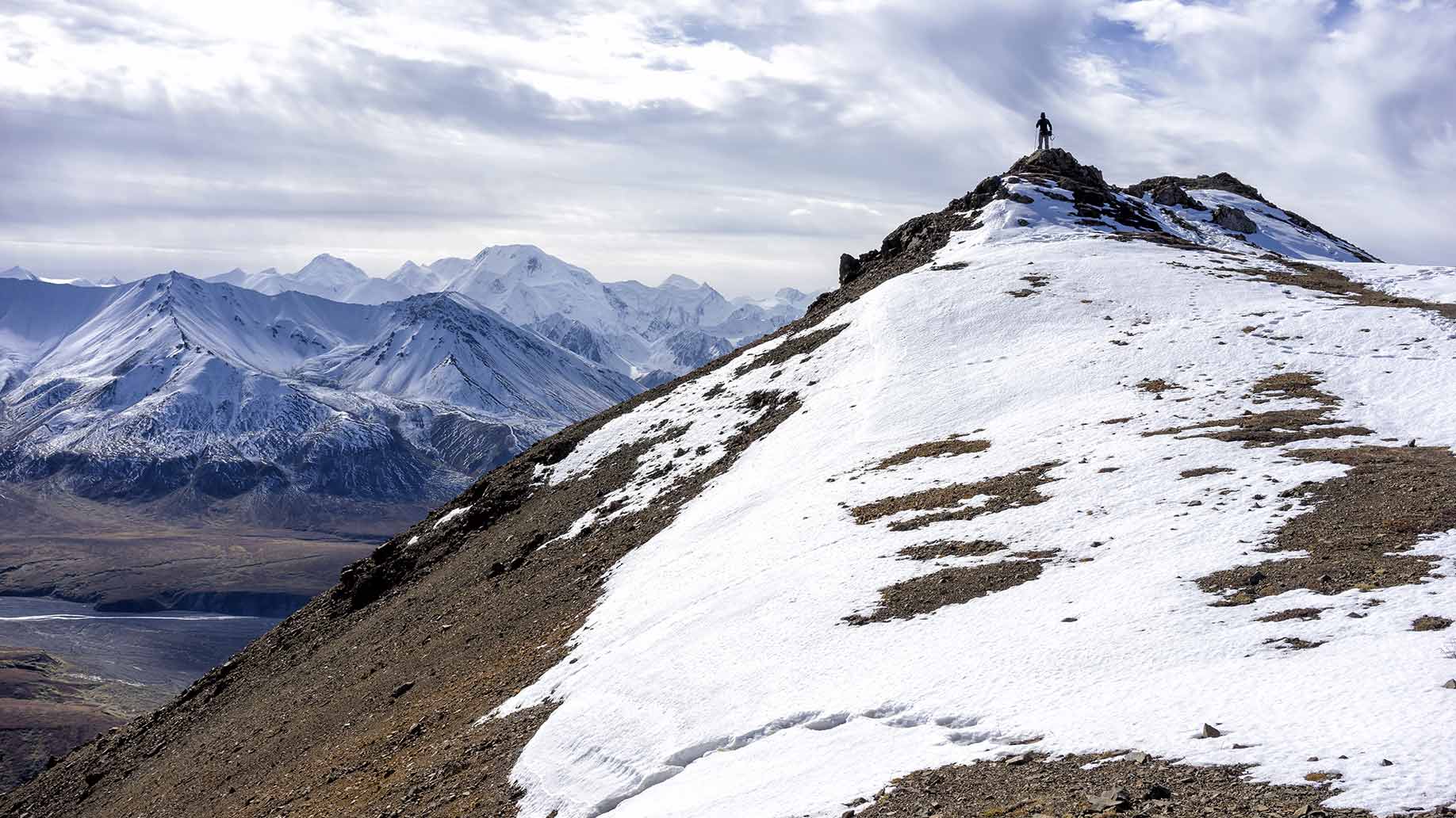 Ballpark Estimate: $1,225 to $6,850.
Soaring to an elevation of 20,320 feet, the south peak of Denali (also known as Mt. McKinley) is the highest point in North America. The Aleut Athabascan people, native to Alaska, named the mountain Denali, meaning "the High One," and it has been called one of the most beautiful mountains in the world. Since 1903, more than 32,000 people have tried for the summit, and well over half made it to the top. The most popular and successful route is the West Buttress, first climbed by Bradford Washburn in 1951. His team accessed the route by using a small plane fitted with skis that made it possible to land on the Kahiltna Glacier.
Although it's not considered a technical climb, Denali is extremely challenging and dangerous. Due to its proximity to the Arctic Circle, climbers must cope with intense cold and severe winter weather. Temperatures plunge to -40°F with winds gusting up to 100 mph. Powerful storms often delay climbs for days, as teams wait, huddled in tents or snow caves, making every effort to save fingers and toes from frostbite.
If you're thinking of climbing Denali, it's essential that you spend some serious time training at high altitude, carrying a heavy pack, constantly pushing yourself both physically and mentally. Guide services advise that you allow yourself a minimum of six months to train hard at altitude, and require that you either take their mountaineering prep classes or produce a verifiable resume of successful, multi-day, high altitude, glacier and snow climbs.
Mountaineering Prep Class: $1,000 to $1,800
Assuming that you are already fully equipped with the long list of specialized high altitude, cold weather gear, there are three types of expeditions you can consider: guided, supported, or unguided. Your decision will depend largely on the ability and experience level of your team, but also on your confidence level, and on your motivation for doing the climb in the first place.
Guided Expedition: $5,200 to $6,850
Choosing a guide service means that you are responsible only for your travel to Anchorage, your own personal gear, and your physical and mental preparation and training. The guide service meets you in Anchorage and, except for your climbing permit, room and board in Talkeetna, and personal expenses, they will cover everything until you return to Anchorage following your climb.
$400 to $550 – Round trip airfare, lower 48 to Anchorage
$5,150 to $6,000 – Professionally guided West Buttress ascent
$200 – Denali National Park Service climbing permit fee
$100 – Gratuity for your guide
Supported Expedition: $1,600 to $2,450
If you want to climb the mountain unguided, but would like help arranging for certain supplies and transportation once you're in Alaska, there are companies set up for just that purpose. Depending on the level you choose, a support program will provide you with transportation from the airport to your hotel, will help you pick up supplies in Anchorage, drive you to Talkeetna, and arrange for your air taxi to Base Camp. They will also plan and purchase 15 days of food, give advice when asked, pay your Denali National Park Entry fee and your Base Camp fee, and provide you with a sled that you'll use to ferry your supplies.
$400 to $550 – Round trip airfare, lower 48 to Anchorage
$1,000 to $1,700 – Expedition Support Team
$200 – Denali National Park Service climbing permit fee
Independent Expedition: $1,225 to $1,375*
You and your team members are responsible for all the advance arrangements, reservations, fees, etc. For instance, you must obtain permission to do your climb 60 days prior to your arrival at the park. Once in Anchorage, you will need a day or two to assemble your gear and purchase food and supplies for approximately 2-3 weeks on the mountain.
$400 to $550 – Round trip airfare from lower 48 to Anchorage
$100 – Round trip shuttle drive to Talkeetna
$200 – Denali National Park Service fee for climbing the mountain
$10 – Denali National Park & Preserve entrance fee
$500 – Round trip air taxi to Kahiltna Glacier (Base Camp) – price often includes sled rental and fuel for stoves (note: 125 lb. per person weight limit on plane)
$15– Base Camp fee
*plus food, supplies, meals & lodging