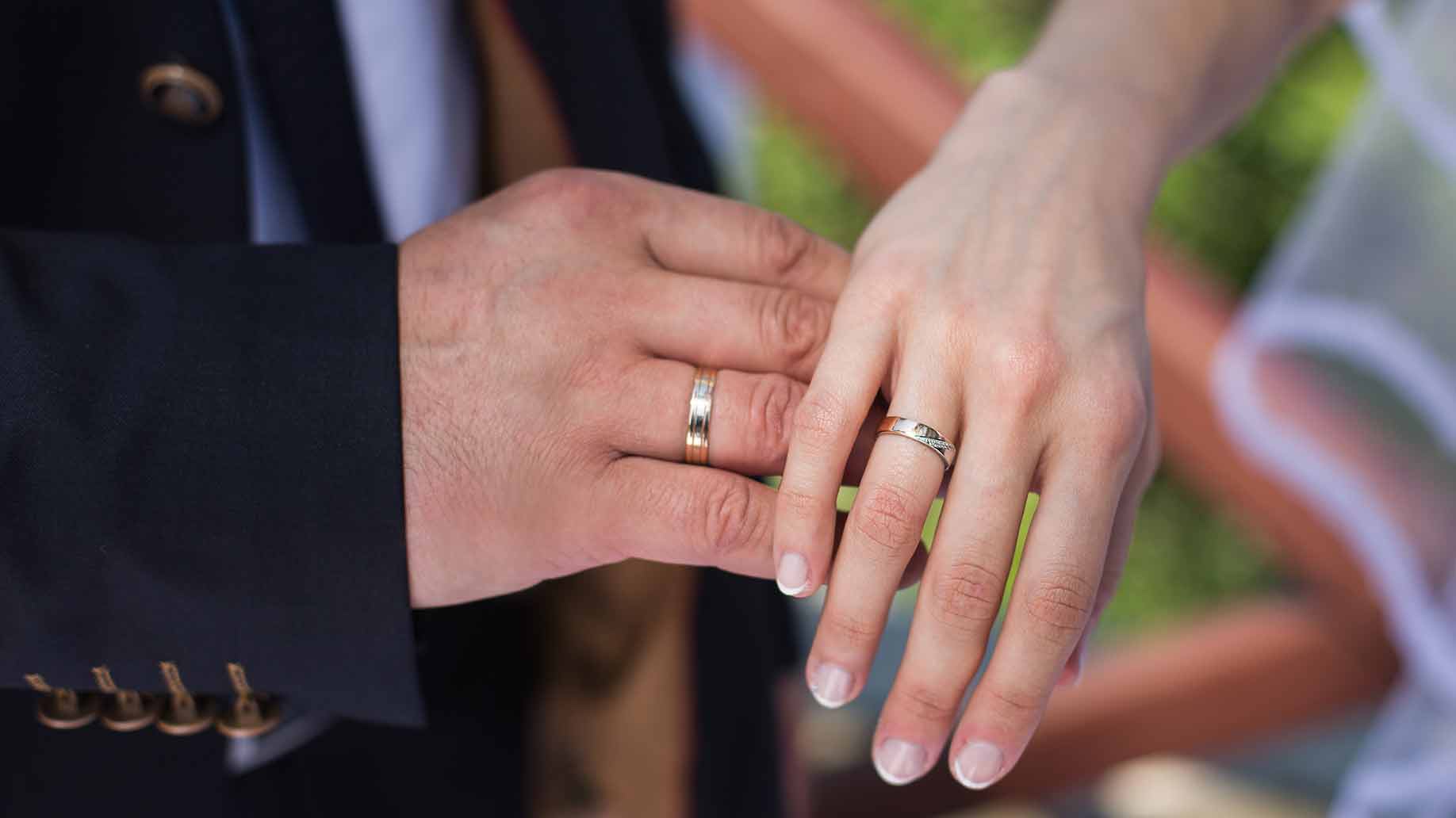 Ballpark Estimate: $100 to $2,000+
"With this ring, I thee wed." You've probably heard these same words repeated at many wedding ceremonies. But while the meaning behind this part of the ceremony is often the same, the actual wedding bands that couples exchange as a token of their love and commitment can span a wide range.
A Long-Standing Tradition
Traditionally, both the bride and groom will each receive a wedding ring. (Or, in same sex marriages, both grooms or both brides may give each other rings.) Sometimes the couples' wedding rings will coordinate, while other times they will be unique.
The origin of the wedding ring as a symbol of a couple's love can be traced back to the beginning of the Egyptian civilization, where people twisted papyrus into rings and bracelets. These were the first examples of wedding jewelry. Over time, the material for wedding rings became more substantial, progressing to ivory, bone and wood before eventually being made from silver or gold. Today, in addition to silver and gold, platinum and titanium are also popular options. While the wedding ring represents love and devotion, in early times when a man presenting a ring to a woman, it was also a way for him to take ownership of her.
Significance of the Wedding Ring
Some people believe that the significance of the wedding ring is that it's round and has no beginning and no end, thereby representing the coming together of two souls for eternity. It's also thought that the space in the wedding band's center represents a door that leads to new opportunities.
From the earliest days, wedding rings were traditionally worn on the third finger of the left hand because it was said that the vein from that finger travels directly back to the heart (although in modern times, this theory has been disproven, but the tradition it signifies still remains). In Latin, the concept is called "vena amoris" or "the vein of love." (It's interesting to note, though, that in some parts of Europe, the wedding ring is actually worn on the right hand!)
What to Look For
Most couples shop for their wedding rings a few months before the wedding date. Simple bands are a popular choice, with the groom's generally being thicker than the bride's. Some couples opt for a matched set, while others select the piece of wedding jewelry that each one likes. Usually both the bride and groom shop together for the wedding rings, but you can surprise each other if you prefer. Keep in mind that for the bride, the wedding band should compliment the engagement ring since they are usually worn together. Therefore, you'll usually want to match the metal and width so they will look good on the same finger. You can often even buy a wedding band made to match the engagement ring, or have one specially designed if you desire.
An Array of Styles
Wedding bands can be simple yellow or white gold circles, or can be made from silver, platinum or titanium. They can also incorporate semi precious or precious stones (diamonds are most common) and may have filigree, etching, braiding or raised edges to add more interest to the style. (Note that if you decide to go with a more ornate wedding band, then you may want to switch the engagement ring to the other hand.)
Where to Shop
You can find wedding rings at most jewelry stores. This can include small local jewelers, as well as larger jewelry chain options. Tiffanys is probably the most popular wedding ring destination, but it also has the highest prices so it may be out of reach for the average couple that has to make every dollar count. The good news is that you can often find similar quality wedding rings for less cost at some of the stores like Zales, Jareds the Galleria of Jewelry, Kay Jewelers, Gordons Jewelers and Helzberg Diamonds. Moderately priced wedding rings are also sold at a range of department stores that carry fine jewelry, such as Macys, Lord and Taylor, Bloomingdales, Saks Fifth Ave, Nordstrom, Neiman Marcus. In addition, some of the lower end stores such as Sears, JCPenney and Walmart also carry very affordable wedding rings at their jewelry counters.
If you prefer to shop online, there are a number of websites that carry wedding rings in all price points. This includes Ross-Simons, BlueNile, E-WeddingBands, Overstock and Amazon.
Custom Fit
If you shop around and don't find a wedding ring or set of rings that you and your fiancé fall in love with, remember that most jewelers can work with you to design something that meets your specifications. Therefore, don't feel you have to settle. The only limitations that exist on your wedding bands will be your imagination and your budget.
Once you select your wedding rings or have them made for you, you'll need to have them fitted to your finger (if they aren't already in your own ring sizes). The jeweler can guide you on proper fit. You'll want to be sure the wedding ring is generous enough to be comfortable for everyday wear and will even be able to accommodate minor swelling of your finger in warm weather, but will not so large it will turn on your finger or fall off.
You may also want to have your wedding rings engraved. You can have a saying etched inside the band, or your initials, names or wedding date, or anything else that has special meaning that you'd like to include in this symbol of the formalizing of your relationship.
What It Costs for a Wedding Ring
What you spend on your wedding rings is really up to you and your preferences. Usually a wedding ring is more a symbol of your union that an extravagant investment. However, if you want to make a loud statement and can afford it, there are of course many quite pricey rings for sale.
Here are some ideas of what you can expect to pay for wedding rings:
Simple Ring
A very thin, simple sterling silver or 10 karat gold band can cost about $100 or less.
Better Quality
If you want to increase the quality, you can buy a 14 karat yellow or white gold band with a little more detailing for the price of$150 each ring and up. Thicker wedding rings, as well as those made from 18 karat gold and those that require more craftsmanship can be more expensive, costing as much as $600 per ring or more.
Higher Budget
If you have a higher budget to devote to this purchase for one or both of you, you might consider a high-quality 18-karat gold or platinum wedding ring that can cost as much $1,500 each or more. Similarly, you can select a wedding ring design with diamonds or other stones incorporated in. For this the price you could pay is $2,000 each or even higher.
So the price of wedding rings can span a wide range, from $100 each to as much as $2,000.
Fitting Wedding Rings Into a Budget
Most couples tend to spend the bulk of the jewelry budget on the engagement rings and tend to go more practical on the wedding bands. If you're not sure exactly how much to allocate to this expense, though, it may help you to know that some wedding planners advise a couple to save about 3 percent of their overall budget on the wedding rings. This means that for a $20,000 wedding, about $600should be set aside to pay for both wedding rings, while a $30,000 wedding would mean about $900 on the wedding rings. How this money is split between the two of you likely won't be even. If the groom is getting a wider wedding band, this will cost more than a thinner one. On the flip side, if the bride wants to incorporate diamonds or other pricey gemstoneson her wedding ring, the price can jump up significantly as well.