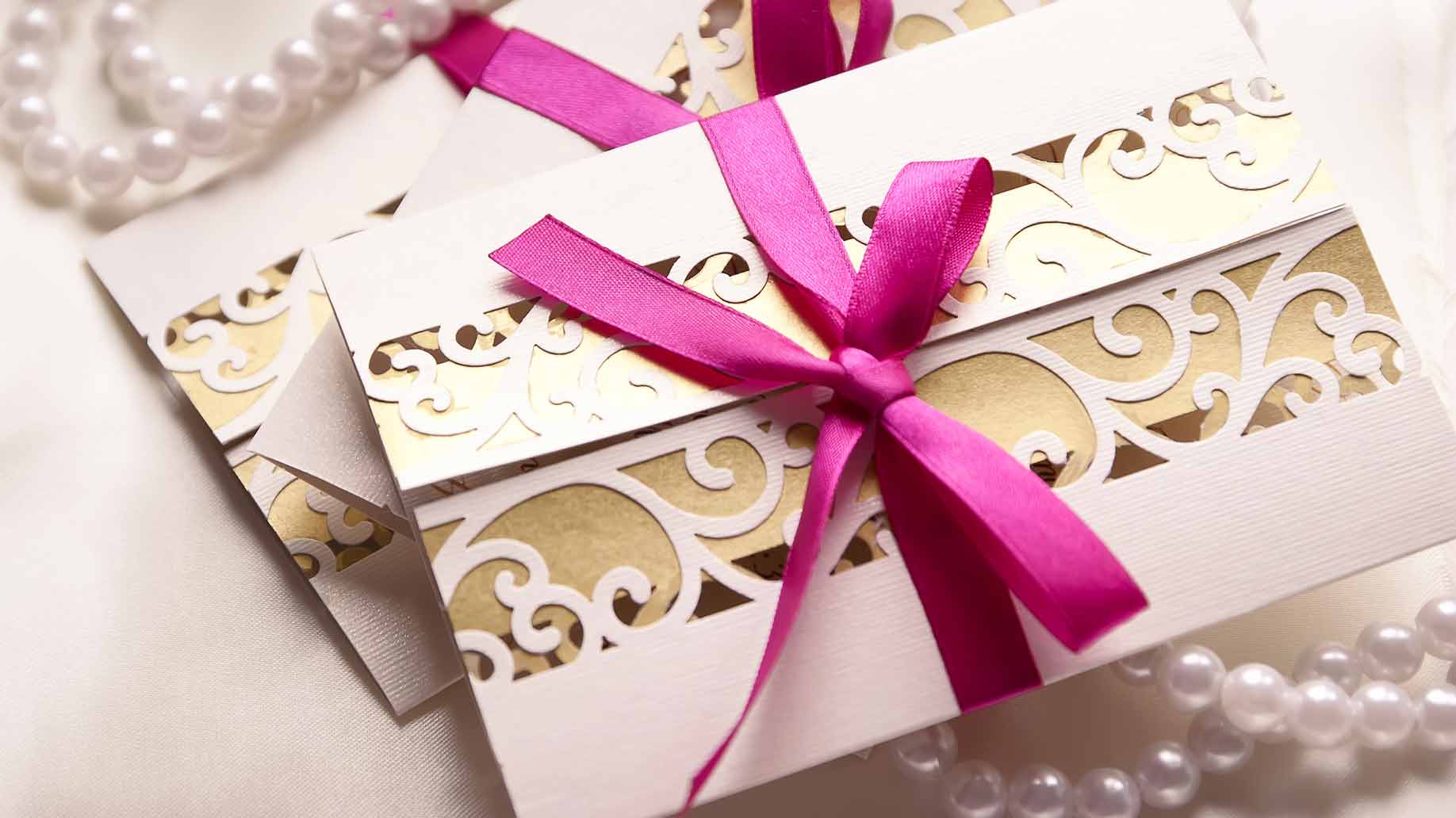 Ballpark Estimate: $1 to $15 per invitation ($660 average total expenses)
If you're planning a wedding, selecting the perfect invitation is essential to communicating your vision to your guests so that they will know what you have planned. To this end, the look, feel and style of your wedding invitation will give important clues in terms of the tone of your day and the appropriate style of dress. For instance, a more formal invitation typically signifies an elegant, black tie affair, while more unique wedding invitations are perfect for a casual wedding where you will be planning to reveal a bit more of your own personal taste and flair.
Match Your Wedding Invitation to Your Event
Your overall wedding budget can also strongly dictate your wedding invitation look and expense. If you are inviting guests for a 5-star dinner, you will likely also be planning to spend a hefty amount on the invitation you send and will want to find something muted and in good taste to match the tone of your event, while you can get away with spending much less on your stationary, and going for more colorful and unconventional options, if you will be hosting a barbeque or ocean side ceremony and foregoing the formal wedding dress.
A Long-Standing Tradition
The tradition of formally inviting guests to a wedding can be traced back through the centuries, but the method used has evolved quite a bit. For instance, historians note that in one of its earliest form in Old England, "bidders" announced the wedding celebration on the streets to passersby, inviting all to attend. In the 18th century, this progressed to people having their wedding invitations published in the local newspapers, while in the mid-19th Century, it is said that most couples had engraved wedding invitations hand-delivered to their guests. Today, the tradition of engraved wedding invitations still exists, but most brides and grooms of course prefer to use the U.S. postal service to share the details of their event to the select group they would like to attend.
Something for Every Taste
Today's weddings truly encompass the gamut of possibilities that exist. You can find anything from intimate home affairs for a small guest list of friends to week long parties with several hundred guests to formal sit-down dinners dripping in elegance with all of the trappings of a royal event. With such an array of possibilities from which to select, the assortment of wedding invitations is equally endless. For instance, you might consider very formal engraved cards on the finest quality, heavy weight paper, or you may prefer an elegant wedding invitation with hand-pressed flowers, scrollwork or other special detailing to reflect the special tone of your big day. Many couples are also turning to Do-It-Yourself kits, which offer all of the pieces you will need to print your own wedding invitations at home and put them together yourself. While the price for this more creative approach is often comparable to some of the more basic professionally printed cards, by going it alone you can greatly up the quality of the materials you select without spending more than you can afford.
Different Printing Options
There are several common printing options available for wedding invitations, enabling couples to choose what suits them best. The most classic, and also the most expensive, choice is to select an engraved-style printing. This is a process that presses the invitation paper on a metal plate so that the printed words are actually raised. This gives a very elegant effect, which is perfect for a very formal event. (Another technique using a letter press also creates an elegant old-world effect, and costs about the same as engraving).
Or, for a similar look that will cost considerably less, you can opt instead for thermography printing, which mixes powder with ink to create letters that are slightly raised off the paper. Although the effect is not as dramatic as engraving, it is close enough to satisfy many couples.
If you are working with a tight budget, though, you may need to forego the fancier options and stick with offset printing. This approach prints the ink flat on the paper, making it the most practical choice and the one which many couple select in the end. Finally, if you opt for Do-It-Youself wedding invitations, you can print them yourself using your home inkjet or personal laser printer. Just keep in mind if you will be printing yourself, you should plan to practice on a few blank cards (and also make sure to order some extra cards as well) to allow room for mistakes.
Where to Shop for Wedding Invitations
Just as there are numerous options for your wedding invitation style and printing techniques, there are also numerous places where you can explore your options, either online or in person. If you want exceptional customer service and guidance in selecting and ordering this extremely important purchase, going in person to a small, exclusive stationary store may be your best bet. You can expect to pay more at a small place, but you can also expect to find an outstanding selection of choices there, and the service you get can be well worth the price, since selecting wedding invitations can be a stressful process at best. If money is limited, though, and you need to shop by price, then you might get more for your money by ordering directly through a large wedding invitation supplier. You can do a search online to find some that carry a style that you like at a good price. Many will send you catalogs of their merchandise — either for free or for a nominal cost. In addition, you can find numerous discount wedding invitation stores that allow you to shop online from the convenience of your home day and night. This makes it easier than ever to find something you like even on a tight budget and with limited time. Finally, you can buy wedding invitation kits at local crafts stores or even at discount houses, or you can order them online. You can even find online shopping stores dedicated to DIY invitation supplies.
What You Will Need
Before you order your wedding invitations, it is helpful to know in advance exactly what you will need. For a formal presentation, you will want a wedding invitation card, reception card, double envelopes (an inside envelope containing the invitation pieces is often inserted inside the outer one), and a response card and envelope so your guests can reply. You may also want a vellum or tissue overlay to finish off the presentation. Other things you can add include directions or a map and hotel information. In addition, "save the date" cards can be sent in advance to let out-of-town guests plan ahead, while matching thank you notes can be sent after your event.
Timing Matters
Many wedding planners recommend starting to look for your wedding invitations as soon as you nail down your wedding venue and theme. This will give you plenty of time to shop for just the right look you desire. Remember that you need to allow time to have your wedding invitations printed (or print them yourself) and you will also need time to have them addressed (or to seek the services of a professional calligrapher). The general rule of thumb is to order a minimum of 12 weeks in advance, and to plan to send your wedding invitations six weeks before your big day.
What It Costs for Wedding Invitations
If you wonder what you should expect to spend on your wedding invitations, a lot depends on your budget, your taste and where you shop. Some experts say that you should allocate between 5 and 10 percent of your overall budget to your wedding invitations and related stationary expenses. And the Bridal Association of America estimates that couples on average spend $659 on wedding invitations and reply cards for their big day. But of course many bride and grooms spend much more and also many spend less.
If your budget is tight, you can find DIY wedding kits that offer high-quality paper and unique designs for less than $100 for 100 invitations(which comes out to under $1 a piece). The simplest wedding invitation cards you can buy printed for some of the online discount invitation suppliers begin in the $1 a card range each when you order in quantities of 100 or more. The prices quickly escalate from there, though, going up as high as $5 or $10 or more each for some of the moderately-priced designer cards and also those with specialty papers, such as heavy weight options with flower pressings or hand-torn edges. The highest-end cards can cost even more, going up to about $15 apiece when you factor in some of the extras, such as tri or bi-fold invitation holders, vellum overlays and ribbon accents.
Sampling of Costs
To give you an even better idea of the range of options you can find and the prices involved, here is a sampling of a few typical wedding invitation choices and what they cost from a few popular online vendors:
A simple one-panel wedding invitation card starts at $135 for 100.
A more ornate wedding invitation of average-quality paper with a wrap-style fold is $220 for 100 of them.
A heavier quality weight wedding invitation card that gets inserted into a pocket-style frame with a bow is $274 for 100.
A fine-quality designer Vera Wang textured wedding invitation card will run you between $500 and $1200 for 100, depending on the style and details you desire.
Finally, to show you the variation in printing style costs, here is a look at two possible scenarios that exist when you order Crane's high-quality wedding invitations, reception and reply cards, envelopes and matching thank you notes.
For thermographic printing, you can expect to spend about $1,700 for the entire printed set.
The exact same pieces, when engraved, will go up to $2,700 for 100.
Other Costs
When shopping for wedding invitation cards, always find out up front exactly what is included in the cost. Many wedding invitations include envelopes and reply cards but reception cards and save the date cards can sometimes be an added expenses, raising the price $1 per wedding invitation or more for each extra piece. In addition, remember to f actor in shipping if you will be ordering your wedding invitations online. Some brides order from websites located outside the U.S. for the best price and widest choices, but shipping can be expensive for large-sized orders coming from such a distance.
Also remember to factor in the wedding invitation mailing postage costs into the overall expense. Many wedding invitations need more than one stamp once all of the enclosures are added in. In addition, square and over-sized cards qualify for a higher postage rate. You will also need to include a stamp for your guest response card, too, so be sure to include this in your stationary budget as well.
Breaking the Bank
While the average bride and groom today has a limited budget and needs to shop smart and make their money stretch in every way they can, there is one highly-publicized wedding held in France back in 2004 where extravagance was the key to the theme. The bride's father is Lakshmi Mittal, one of the richest men in the world, and he spared no expense for his daughter's big day, which cost a whopping $70 million. While no exact figure is available for the wedding invitations themselves, experts say they were the most expensive ever made. They consisted of 20 pages that were encased in silver and were sent to more than 1,200 guests around the world.
While not many couples today can hope to match this impressive silver-cased wedding invitation, some of the wealthy brides and grooms in the U.S. are opting to order oversized invitations adorned with fresh flowers and other unique detailing and have them hand-delivered to their guests' doors. The price for this extravagance is said to start at about $35 for each wedding invitation.
Final Note
Regardless of how much you spend on your wedding invitations, you will want to save one or two to keep in your scrap book to look back on later. You may also want to send one to the President and First Lady of the United States. In recent years, the White House has often sent an acknowledgement back to the sender. This can be a unique momento to add to your wedding scrapbook.