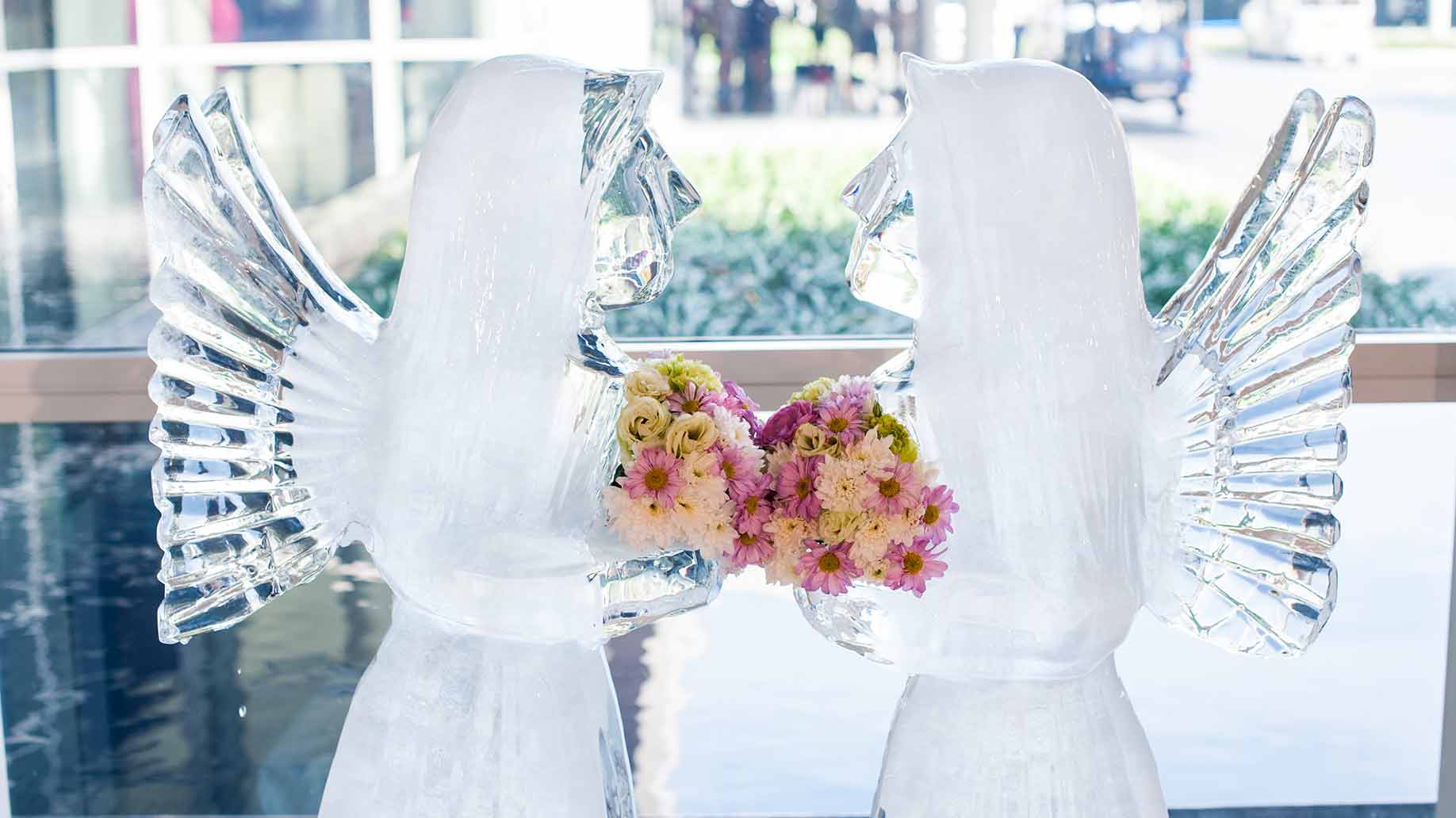 Ballpark Estimate: 300 to $800 (basic design); $1,000 to $5,000 (custom sculpture)
Did you know that one of the best ways to wow your guests is to incorporate a magnificent ice sculpture into your special event? This is an impressive detail they won't soon forget!
Make an Icy Impression
If you've ever seen an ice sculpture in person, you know what a showstopper this can be. A typical ice structure can weigh as much as 250 pounds and can be about 4 to 5 feet high, making it an important large focal point.
Define Your Purpose
How you use an ice sculpure at your event can vary depending on your goals. Some catererers will feature this as a decorative accent that can do double duty to keep chilled foods cold. Other times, ice sculpures as just meant as a pretty centerpiece on buffet or serving tables, or to be a focal point in the room. Ice sculptures can also be used to adorn the bar, or in some instances, couples request that the entire bar be made from an ice sculpture, which can add a dramatic touch to the room.
Select a Shape
When you have a specific theme for your wedding, this will often be a good inspiration for your ice decoration. Some of the popular types of ice sculptures that bridal couples often request include swans, doves, hearts, angels, sailboats and vases. Just remember that you aren't limited to these common shapes. You can also request more original ideas to be translated in ice form. In fact, many couples work with an ice sculpture to get a custom-designed creation that has special meaning to them. You can even incorporate your married mongram into the shape.
Professional Matters
The best ice sculptors are highly trained and experienced artists in this medium. Some have learned the craft at culinary schools, which often teach students how to do the basics. In addition, specialty schools also train carvers in this unique art form. Very experienced and passionate ice carvers compete in ice sculpture competitions across the United States and also across the world. Some even compete in Olympic-level carving contests. Some of the most skilled ice artists even create entire rooms and buildings in this art, so if you're looking for something very ornate and detailed, there's sure to be someone who can turn your vision into reality.
How to Find
One of the best ways to locate qualified ice carvers in your area is to visit the website of the National Ice Carving Association (NICA) and browse their directory of members in your area. You can also check with the Academy of Ice Carving and Design, which offers training courses in this craft. Many of the online wedding resources also include ice sculptures in their listing of vendors. These include The Knot, Brides, and Martha Stewart Weddings.
Or, you can do a search online and see what comes up. In addition, you should ask your caterer if he can get you an ice sculpture, or else can put you in touch with someone he recommends locally who does great work.
What to Look For
When you book an ice sculptor, you'll want to ask anyone you're considering for credentials and to show you samples of their work. You should also ask for references you can call to see how satisfied other bridal couples were. Always ask about the quality of the ice the sculptor will use, how it will be transported to your wedding site, what the set-up involves, what type of presentation items he will provides and how long the sculpture should last.
Also remember that part of having an ice sculpture also involves the breakdown and clean up as well. Therefore, you'll want to ensure that anyone you hire will be coming back at the end of the event to take down the decoration, clean up the mess and take back all of the equipment he provided.
Prevent a Meltdown
Most ice sculptures will last for about 6 hours inside your reception room. Generally, such an ice creation melts at a rate of about ¼ of an inch for every hour. If your event will be held outside, the timeframe the ice will hold its shape can be considerably less. How quickly it melts will depend on the temperature and the sun's position.
Whether indoors or out, as your sculpture melts, the water should travel through a clear hose attached to the back of it and deposit it in a container underneath, so there will be no mess.
Things to Consider
When you commission an ice sculpture, there are several key details you'll need to consider. First, you'll want to be sure that your reception room can accommodate the size of the ice sculpture you desire. You'll also need to be sure that the ice carver will coordinate with your caterer and florist to get the maximum impact from your presentation.
In addition, talk to your sculptor about special effects. If you really want to impress your guests, you can consider using colored lights, suspending the form in mid-air, having it rotate, incorporating laser beams, fog or surround it with evaporative artificial snow. For some couples, these types of extra details can be well worth the investment.
Process
Keep in mind that there's also a great deal of variation in terms of how your sculpture is produced. If the process takes place right in your reception room, it will need to be done quickly, usually using machinery and power tools. When the temperature is cooler and there's more time to work, chisels and handsaws can also get the job done. In addition, it's becoming increasingly common for sculptors to create their frozen product using special machines that can get the results you desire in much less time.
What It Costs
The price of an ice sculpture can span a very large range. A lot depends on the size and elaborateness of what you select. Very simple shapes made from one small block of ice can be on the low end, while creations made from multiple ice blocks or single or multiple large blocks, with very complicated lines and detailing can be quite time consuming to make and require great expertise. The quality of the ice and the level of experience the sculptor brings to the job will also greatly affect what you'll pay.
Special effects, such as colors, lighting, snow, fog and suspended and/or rotating sculptures can significantly increase what you'll spend.
A very simple ice sculpture starts at about $250, including the set-up, delivery and break down. Most typical wedding ice sculptures cost in the $350 to $800 range. A custom ice sculpture could cost between $1,000 and $5,000, depending on what you order.
So you can spend between $250 and $800 for a basic sculpture, or between $1,000 and $5,000 for a custom creation.
Just keep in mind that special effects can add several hundred dollars or even more to the bill. If the ice sculpture needs to be transported any great distance, you may also be charged a per mile rate.
A Budget-Freezing Option
If you love the idea of an ice sculpture but can't afford the cost, you could buy a very small DIY ice sculpture mold online at discount wedding stores for between$25 and $50, and make your own. (Just beware that this method won't last as long as a professional sculpture.)