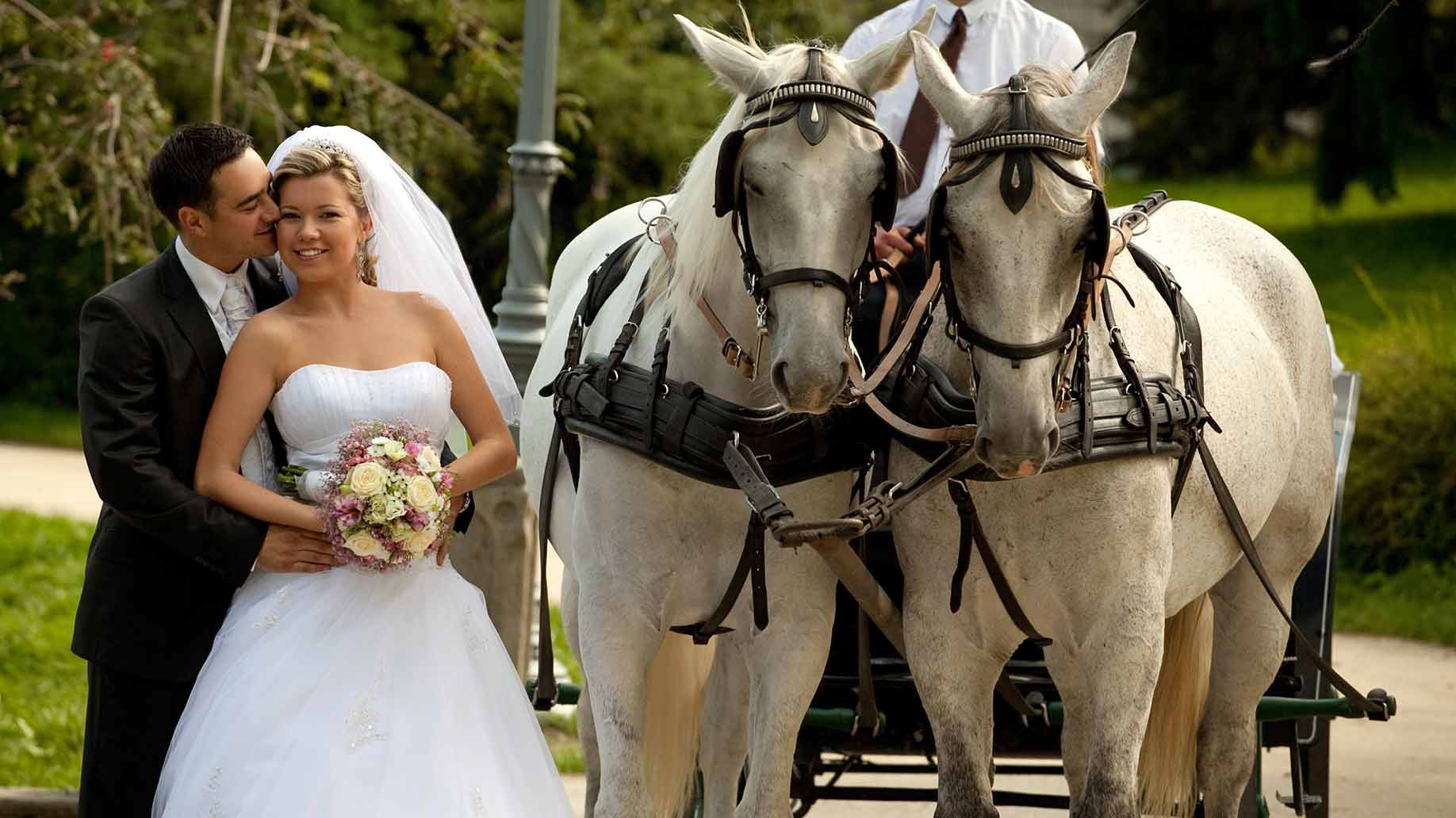 Ballpark Estimate: $250 to $1,000
When you're planning a fairy tale wedding, wouldn't you love to draw up in front of all of your guests in an elegant horse-drawn carriage? This special detail, which is reminiscent of a much grander time of life, could make your big day extra special.
A Ride to Remember
Horse and carriage rides are in high demand for a variety of special occasions, including many weddings. Usually, the horse and carriage will pick up the bride and her father or attendants and carry them to the ceremony in style. Then once the vows are done, the bride and groom will take a special private carriage ride to the reception, where they can pose with the horse and carriage for photographs.
Things to Consider
Before you hire a horse and carriage, there are a number of logistics that you should consider. For instance, you'll want to know how far you the horse will need to travel, and how much time it takes to get there. Keep in mind that horses typically travel at a pace of between 4 and 6 miles an hour. In addition, you'll need to make sure that the roads will be passable for horses. (Very busy roads can be difficult or even dangerous.)
Other factors that you'll want to weigh include how many people the carriage will transport. (The most common carriages hold two to four people, but you can even find one to accommodate as many as six.) Also, do you have a preference as to whether it's pulled by one horse or two? Keep in mind that two horses can be more expensive, but in return for the investment, this can also provide a backup plan in case one horse gets injured or sick on your big day. Whatever you select, you'll also need to make sure that the carriage itself is big enough to comfortably house your dress.
Further, if you're having a summer wedding and you don't have far to travel, an open-style carriage may be a perfect. (Just make sure you have a backup plan in case it rains or is very cold and windy.) Some of the other options that exist include white majestic, old-fashioned black and glass enclosed. (Certain styles seats side to side, while others are face-to-face.) You can even opt for a horse-drawn winter sleigh ride if the season permits. The latter can be a breathtaking sight sure to awe your guests.
Picture Perfect
If you're having your ceremony and reception all at one location, or if the situation just isn't conducive to horse and carriage travel, remember that if have your heart set on incorporating this element into your event, you can still hire to one pose with you for wedding photos even if it doesn't take you out onto the main roads.
What to Look For
It's always a good idea to see a carriage you're considering in advance so you can be sure it looks good, is well maintained and will reproduce well in your photographs. You'll also want to know what types of decorations, if any, will be provided to add a special festive air to this transportation. Some carriages are decked with tulle, bows, flowers and a "Just Married" sign. Sometimes champagne and snacks for the bridal couple will also be provided. In addition, you may be able to request ribbons be braided into the horse's hair to coordinate with your wedding colors. Finally, you should ask the horse and carriage company how the driver will be dressed. You'll probably want to have him come in formal wear or even an outfit reminiscent of the past.
Get a Contract
With any company you're doing business with, always ask for a written contract of your arrangements and also make sure it details the specifics, including the cost, how and when payment is due, how inclement weather will be handled, what will happen if the horse or driver is sick or injured and what is included in the price. You should also find out the cancellation policy.
All in Good Time
The date of your wedding will affect how far in advance you need to start shopping for your transportation. If you're planning a summer event, you may need to book your horse and carriage as early as a year in advance. The same can be true for holidays, such as Christmas, New Year's Eve and Valentine's Day.
Where to Find
To find a horse and carriage company, you can do a search online to see what options exist in your area. You can also visit online wedding resources such as The Knot, Brides, and Top Wedding Sites and use their searchable directories. You can also attend wedding expos, where you may find some horse and carriage vendors. Or, if you live in a city that offers horse and carriage rides for tourists, you can ask the company who provides this service if they are available for special events. Just be sure that any company you hire comes fully insured and can provide references.
Other resources to help you learn more about the use and preservation of horse drawn carriages includes The Carriage Association and the American Driving Society. You can also find some local carriage groups online that can direct you to their members and tell you more about this historical ride.
What It Costs
When you decide to book a horse-drawn carriage for your wedding day, keep in mind that this will be significantly more expensive than what you would spend if you to an informal short horse and carriage ride in a tourist area where you wouldn't need a reservation. This is because for your special event, the horse and carriage needs to be brought to your wedding venue, or to wherever you are being picked up, and will need to be dressed and prepared for this ride. The carriage also needs to be decorated for the occasion. If you have more than one horse, more than one driver, or plan to have the carriage make multiple trips, this will all impact the bottom line.
Here are some ballpark ideas on cost:
The price for this service starts at between $250 and $500.
If you select a larger or more elaborate carriage with multiple horses, you can spend as much as $1,000 or more.
If you're getting married in a city where the carriages are already local, you might spend on the lower end, while if your wedding requires more travel, can expect to spend on the top of the range. Some companies may also charge you travel time, gas costs and/or mileage (usually between $1 and $2 a mile for up to 100 miles) to get to your ceremony location.
If you want to keep the carriage for extra time, beyond the basic ceremony, this is usually charged at a rate of between $50 and $100.
Note that some bridal couples hire multiple carriages so that their entire wedding party can partake of this ride. Additional carriages are usually charge at a slightly lower rate than the first one. (For instance, if you pay $500 for the first carriage, the second one may be $400.)
So a wedding horse and carriage ride can cost between $250 and $1,000 or more, depending on the logistics you desire.
Final Note
If you want to decorate your horse and carriage ride to match your wedding theme, you can ask the company if they will allow your florist to provide extra flowers, bows and other special details to decorate the carriage.