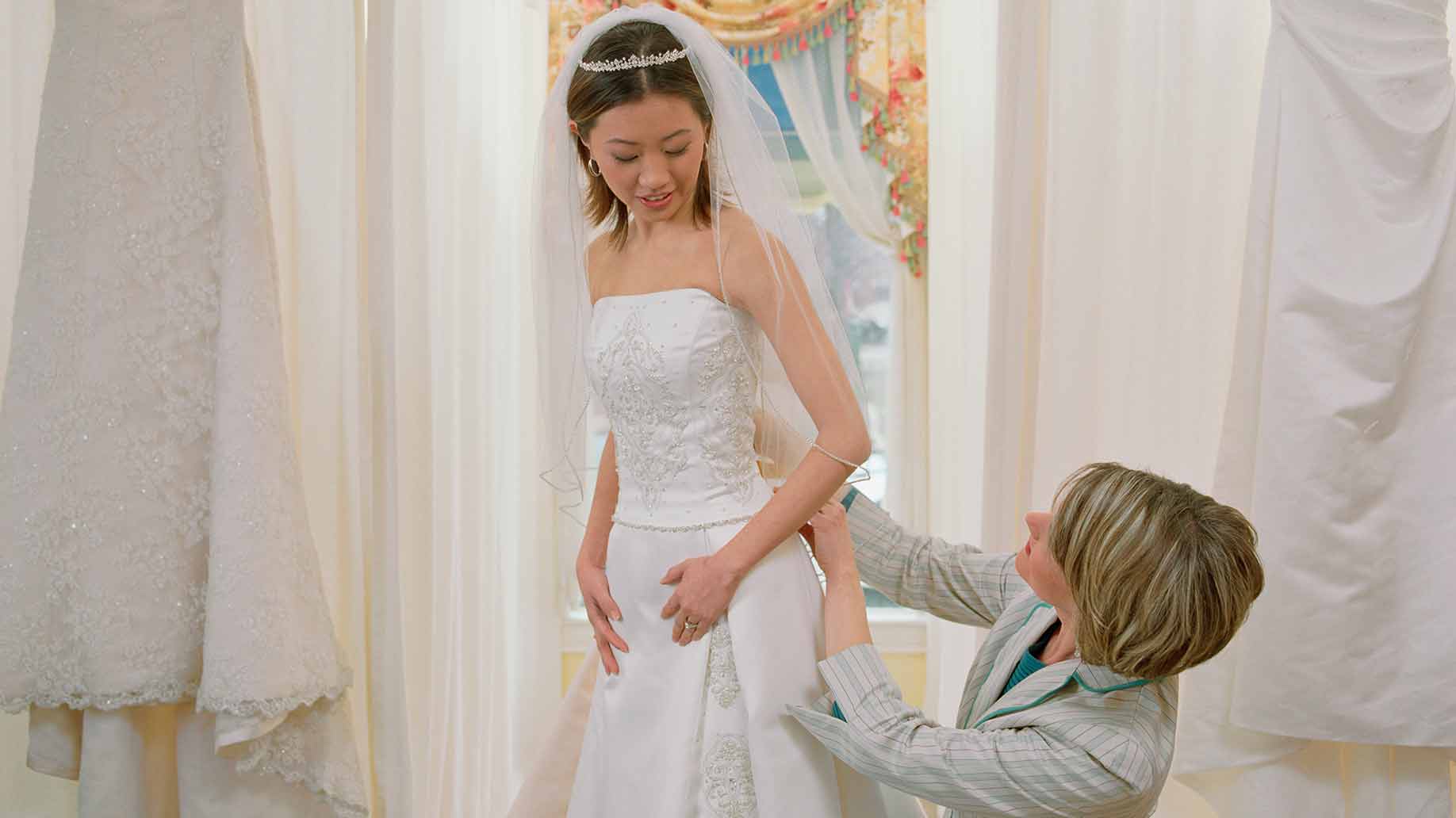 Ballpark Estimate: $100 to $500+
You've found the perfect wedding dress. Now it's time to find a seamstress who can make it fit to your size and shape. Whether you've splurged on a high-end designer gown of found an inexpensive dress right off the rack, it's essential to have it altered to your exact measurements for the best effect.
Importance of Timing
If you have an elaborate dress with lots of fine detailing, the alterations process can be quite time consuming. Therefore, it's a good idea to begin the fitting process at least six to eight weeks before your event. You'll probably need to have several fittings (three or four is common), usually with the last one right before your wedding for any last minute tweaks. This can be important since some brides gain or lose weight in the weeks leading up to the wedding as a result of all of the prenuptial stress.
Also make sure that you also get a commitment from your seamstress as to exactly when the alterations will be done. You don't want to take any chances that you won't have the finished product ready for your big day.
How to Find a Tailor
If your bridal salon offers alterations, it's often easiest and most efficient to let them handle the fitting there. They usually charge more, but you can also be confident about the job you will get. Better yet, some shops even include the fitting as part of the dress price, or at least offer a small discount on it. But if yours doesn't, or if you bought your dress somewhere that doesn't offer tailoring, you'll need to find a seamstress in your area. You can look in the yellow pages, do a search online or browse vendor directories on popular wedding resource sites. Some of these include Brides.com, TheKnot.com, and WeddingWire.com. Fashions.org is another option to try. This website provides a directory of independent fashion designers/seamstresses who specialize in altering formal wear. In addition, you can always ask friends for recommendations to someone they've used.
Some seamstresses work through a tailoring shop or dry cleaners, while others may have a small, home-based business. The setting isn't important as long as they have the expertise for the job. You can also ask a seamstress in a high-end department store who is used to working with fine fabrics and exquisite detailing if he or she accepts any side jobs.
Experience Makes a Difference
There's no avoiding the fact that experience really matters when it comes to wedding gown alterations. Many bridal gowns are of fine fabrics that can be challenging for a novice to work with. In addition, beading, boning, draping and bustling can all require extensive experience and skill to navigate properly.
Therefore, you don't want to take any chances. If your tempted to give a beginner a try to gain some experience, think again. When it comes to something as important as this, you should always go for a seamstress who specializes in wedding finery and has many years of proven success in this area. It's also worth paying extra for this expertise, since someone not as well trained can easily ruin your gown beyond repair. Always ask anyone you are considering hiring to show photos of finished dresses and also to provide references you can check.
What to Bring
When you go to your bridal gown fitting, you'll want to bring your wedding shoes to ensure that the dress will be exactly the right length. Also wear your bridal undergarments, such as a slip or push-up bra, so the dress will be fitted to your exact measurements with these on and the seamstress can check that everything falls properly and doesn't pull or bunch anywhere. You should also have your maid of honor accompany you to learn how to bustle your dress after the ceremony on your big day. This is important, since otherwise she may not know exactly what needs to be done and this can slow up the timing of your event considerably.
What It Costs
What you will spend on your wedding dress alterations will depend on so many factors. The type of fabric of your style, the style, the amount of ornamentation it has and exactly how extensive your changes will all make a big difference in what you will spend. On top of that, seamstresses in big cities, as well as those who work in upscale bridal salons, may charge more than those who work in more rural areas and also those who work independently from home and have less over head.
With all that in mind, here are some guidelines you can use. But remember that if the fabric or style of your dress is more difficult to work with (such as if it is out of a very delicate chiffon or organza, has extensive beading throughout or is made from multiple layers), the price can greatly increase.
Hemming
This can start at $100 and can go up to $250 or even more if the dress is more detailed and will take longer to perform.
Bodice Alteration
This can be between $50 and $100 if the job is straightforward. More complicated dresses can cost much more.
Sleeve Alteration
To shorten or adjust the sleeves can also be between $50 and $100, as long as there isn't too much ornamentation on this area, which can make this more time intensive and therefore more expensive.
Taking Dress In/Out
This can range from $100 to $200. If boning is involved, the dress may need to be deconstructed and then put back together, which can greatly increase the price range. (Keep in mind that it's generally easier to take a dress in than to let it out.)
Bustling the Dress
Creating the bustle that will be used to lift and attach the train also costs extra. This ranges from $25 to $100.
Many brides require multiple alterations, such as having the sleeves shortened, taking in the bodice and hemming the length. Some bridal salons advise their clients to budget at least a few hundred dollars for the expense of making these tweaks on their dress.
On the very low end, most brides spend at least $100 on their alterations, but if the dress needs any extensive work, the overall price can end up being $500 or even more.
It's also worth noting that if you wait until the last minute and need to have alterations done to your dress within two weeks of your date, many seamstresses will charge double for this quick turnaround.
Final Touch
Once the alterations are complete, most wedding dresses will need a final press and/or steaming to get out any wrinkles or creases. This should be done within a day or two of the event so it will still be fresh. Steaming or pressing dress can cost an additional $50 to $100.