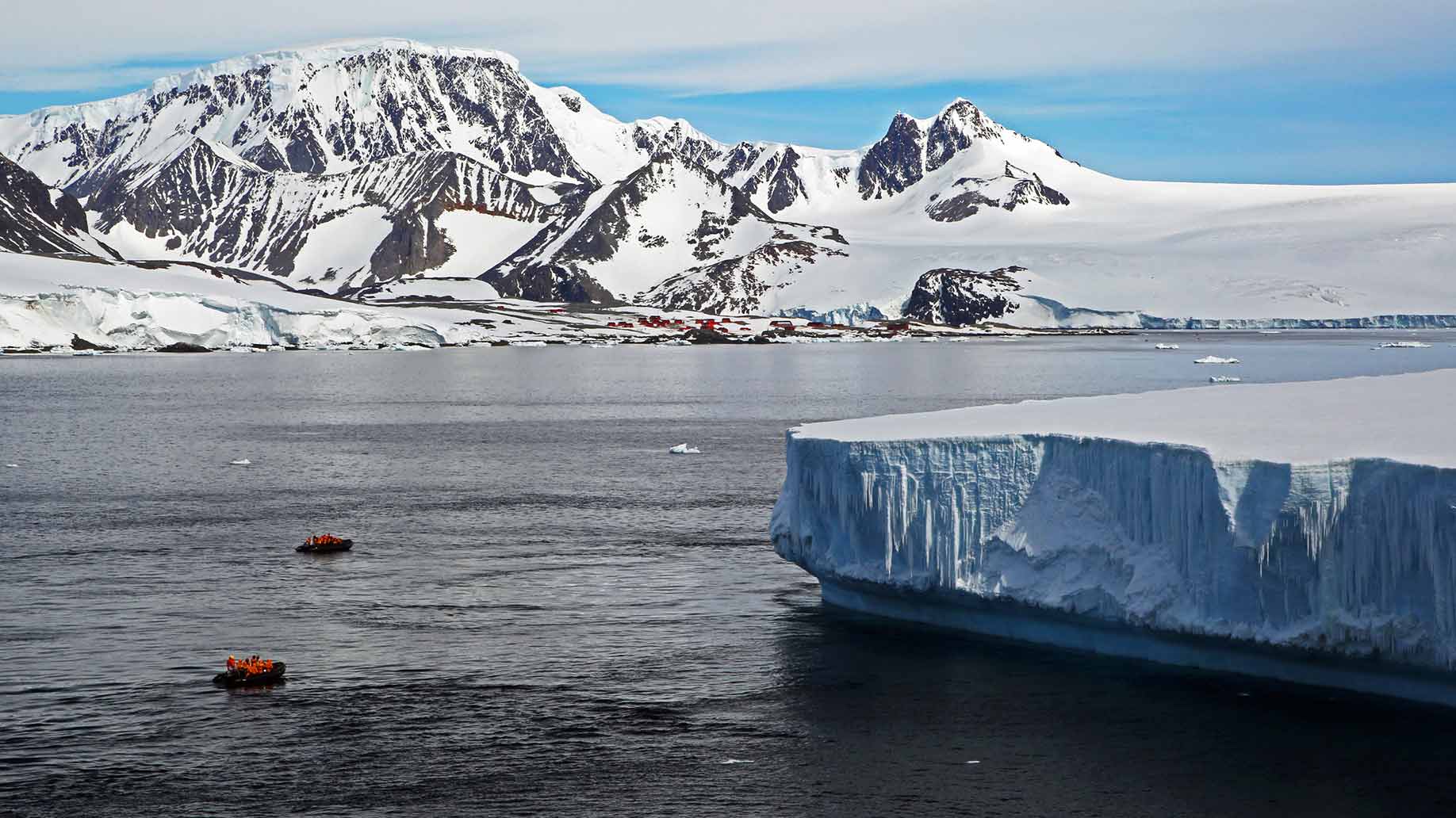 Ballpark Estimate: $36,000 to $65,000
Antarctica is a popular tourist destination. Dozens of cruise ships sail there from November to March, when the sun never sets. Tourists pay tens of thousands of dollars for the trip, mostly to see penguins and icebergs. However, if you really want to experience adventure travel to the world's coldest continent, you need to head 700 miles further south from the coast—to the South Pole.
There are three different South Pole locations:
South Magnetic Pole – Currently located off the coast of Antarctica, this is a constantly shifting spot, due to changes in the Earth's magnetic field.
Geographic South Pole – The southernmost point on the planet, located at 90°S, is marked by a small sign and a tall stake driven into the ice. The markers must be moved annually, to compensate for the movement of the ice – about 10 meters per year. The Geographic South Pole is the goal of expeditions and trips.
Ceremonial South Pole – Used for photography purposes, this shiny metallic sphere atop a diminutive red-and-white striped pole is located a short distance from the Geographic South Pole, and is surrounded by flags of the Antarctic Treaty countries.
History
The first explorers to reach the South Pole were Roald Amundsen's Norwegian party, arriving on December 14, 1911. A British expedition, led by Robert Scott arrived one month later, although Scott and his four companions all perished from starvation and cold during their return trip. The Amundsen-Scott South Pole Station was established in 1956-57 for scientific research, and has been staffed ever since by researchers and support personnel. During the austral summer, from November to March, about 250 scientists live at the station. That number drops to between 50 and 60 when the winter season descends, with its constant darkness and extreme temperatures.
Environmental Impact of Antarctic Tourism
With the box office success of "March of the Penguins" and "Happy Feet," and the growing popularity of adventure tourism, the fragile ecosystems in the Antarctic are coming under attack. "Penguin tourism" has skyrocketed in recent years, bringing thousands of tourists to a land once thought to be unapproachable. Environmental impacts are already visible: noticeable footpaths have appeared in formerly pristine areas, slow-growing moss beds have been damaged, penguin colonies have been disrupted, and over-eager tourists have been known to illegally walk off with historic or geological "souvenirs." Some cruise ships or tourist vessels practice careless or improper waste disposal, and the increased ship traffic has resulted in accidents with potentially catastrophic environmental consequences, and expensive repairs.
More recent notable trips to the pole, some more admirable than others, include:
December 1989 – Arved Fuchs and Reinhold Messner became the first people to reach the pole without animal or motorized aid.
December 2005 – a small team from Great Britain, along with one Icelander, drove 707 miles from Patriot Hills to the South Pole in a specially-outfitted 6×6 fully-modified Econoline. The cost of that world record expedition, including construction and transport of the vehicle, was $1.6 million. (Gas at the South Pole cost $84/gallon.)
December 2007 – Hannah McKeand (33) set a new speed record for skiing alone and unsupported, 690 miles to the pole in only 39 days, to raise money for breast cancer research.
Where to Go
Trips to the South Pole take advantage of the five austral summer months, November to March, when the sun never sets.
Passports and Visas: $100+
There are special entry forms and permits required to enter Antarctica, but no passport or visa is needed since no single government owns the continent. The entry permits are often arranged for you by your guide service or travel agent.
You will, however, need a passport for your travels in South America. If you are an American citizen, no visa is required, but a $100 "reciprocity fee" will be charged upon your arrival in Chile.
Airfare
Your flight from the United States will take you through Santiago, Chile and then farther south to Punta Arenas. If all goes well, flying time should be around 24 hours. All prices are approximate:
$1,300 to $2,350 – Round trip from New York City (LGA) to Punta Arenas, Chile (PUQ)
$1,500 to $1,900 – Round trip from Chicago (ORD) to Punta Arenas, Chile (PUQ)
$1,370 to $1,700 – Round trip from Los Angeles LAX) to Punta Arenas, Chile (PUQ)
What Will It Cost You?
By Air
The first commercial flights landed at the South Pole in the 1960s, and since 1987, Adventure Network International has been flying scientists, explorers, film crews, and the occasional wealthy private citizen to the pole from their base camp in the Patriot Hills. However, 2008 marks the first year that tourists will be able to book flights to the South Pole. Under a great deal of international scrutiny and criticism, a British travel company is currently scheduling tourist trips for December 2008. The trips will be 6-hour flights to the pole from Patriot Hills, and passengers will be allowed to get out and walk around for 4 hours, if weather permits. There will be only four flights, 11 people per flight. Cost: $36,000 per person
Guided Expeditions
Costs cover most expenses once you arrive in Punta Arenas, Chile (i.e., flights to and from Antarctica, guide services, meals and lodging in Antarctica, etc.).
Ski the last degree: 10-21 days. You fly from Punta Arenas to Patriot Hills, Antarctica where you, your guide, and other group members are flown to 89°S. From there you ski "the last degree" – 69 miles to the Geographic South Pole. Depending on the guide service, you may be pulling a sled or you may not. You may have gourmet food, soft mattresses at night, and insulated tents, or you may not. Shop around for the type of trip you prefer. Either way, once you arrive at the pole, you will spend about 4 hours there before a small plane arrives to return you to Patriot Hills for a celebratory dinner. You leave for Chile the next day. Cost: $41,000 to $42,000 per person
Messner start: 35-40 days. You, your guide, and group members will be flown from Patriot Hills to the coastal location where Reihold Messner and Arved Fuchs started their 1989 expedition. You will then ski and pull sledges 555 miles, over unexplored terrain, to the Geographic Pole. Cost: $50,000 – $51,500 per person
Patriot Hills start: 55-60 days. This is a 600-mile unsupported expedition. You, your guide, and group members will ski and pull sledges loaded with supplies and food for 55 days, to the Geographic South Pole. Once there, you will be picked up in a small plane and returned to Patriot Hills. Cost: $60,000 to $62,000 per person
Ski all the way: 65-68 days. This is a 730-mile supported trip from coast to pole, skiing over glacier ice, ice cap, and mountain passes. Food, supplies, beer, wine, bed linens, clean laundry, and more will be flown in to prearranged locations along the route. Cost: $62,000 to $65,000 per person
Mount Vinson and Ski the Last Degree Combo: You will be part of a guided expedition to climb Mt. Vinson, the highest point in Antarctica. Upon your return to Patriot Hills, you will rest for a few days and then be flown to 89°S where you ski "the last degree" – 69 miles to the Geographic South Pole – before being picked up and flown back to Patriot Hills. Cost: $57,000 to $60,000 per person