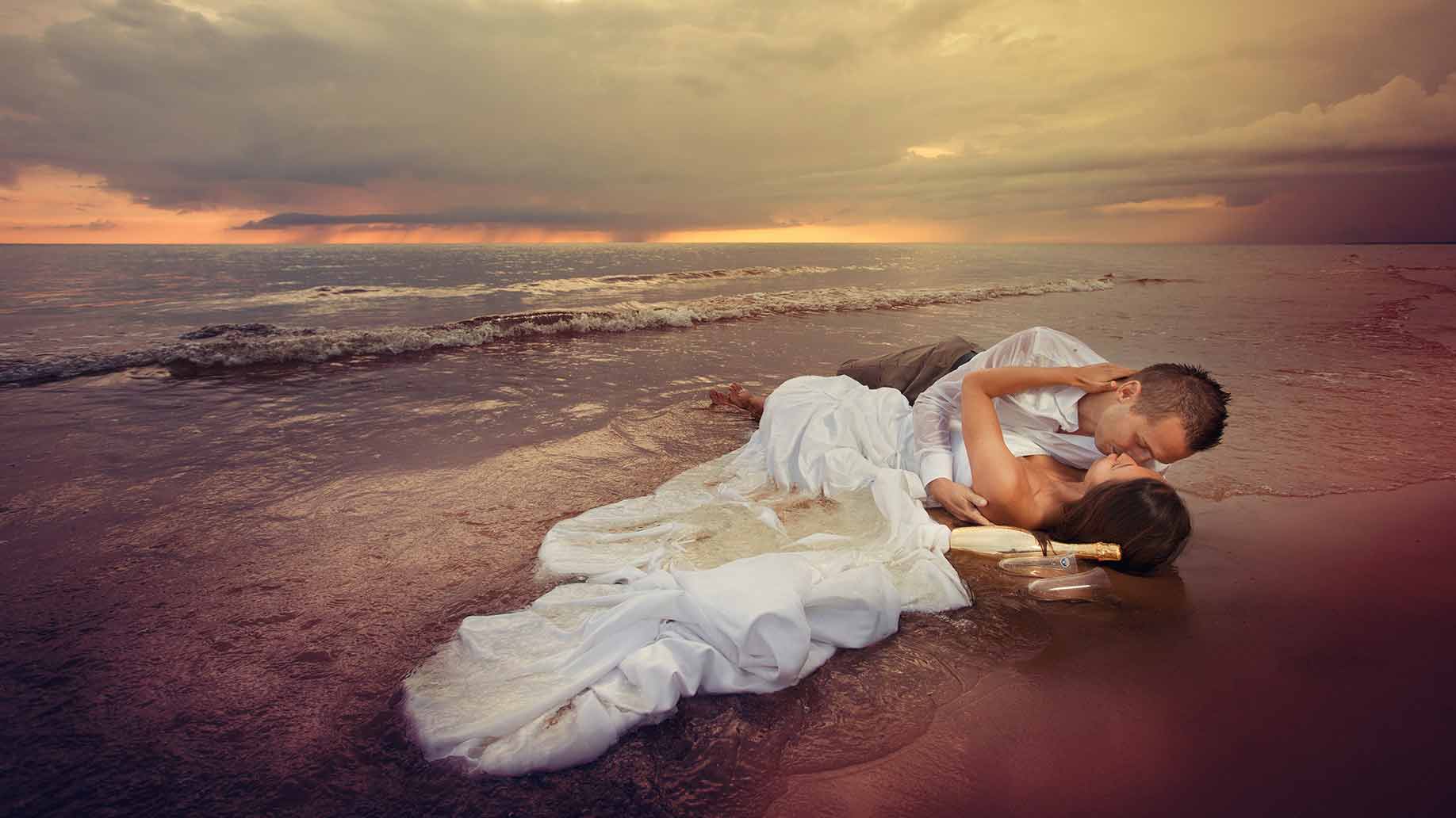 Ballpark Estimate: $100 to $500 for photography session + cost of your dress
You spent your entire wedding day trying to keep your elegant gown pristine so it would look great in your photographs. So once the event it over, how about throwing caution to the wind to participate in an adventure-filled outdoor photojournalistic session? For many brides, the excitement of starring in such an exciting and unconventional situation is very appealing, even if it means risking their prized possession in the end.
A Worthy Sacrifice
If you invested a few thousand dollars on a designer wedding gown, would you be willing to have it ruined once your big day has come and gone? For those brides who take part in Trash the Dress sessions, which are photography sessions set in a wild, outdoor location where you wear your wedding best, the exquisite fabric does indeed seem to be worthy of the sacrifice. The caveat though is that in the process of destroying the dress, which they don't plan to ever -wear again anyway, they will get some dramatic and amazing high-fashion photographs worthy of a spread in Harper's Bazaar or Vogue Magazine.
The New "Un-Wedding" Photo Trend
A growing number of brides today are breaking with tradition to pose in their expensive wedding dresses in "messy" settings while their photographer captures the unique session on film to preserve the memories forever. Think high-end fashion photography starring you that enables you to achieve this wild yet elegant effect. Photographers who offer such "un-bridal" sessions point out that this is a unique and also valuable opportunity to allow a newly-married couple (often the grooms also take part) to express themselves and their personalities without worrying about acting "proper" for their guests. With their guards let down, both people can explore an adventurous location of their choice and have fun in the process. If you are considering doing something similar, it may help you to know that such a spontaneous photo shoot often results in some of the best photos that truly capture your beauty and happiness and in fact, may end up being one of your more cherished mementos.
Allure of the Unconventional
If you decide you want to participate in a Trash the Dress photo shoot, you may wonder exactly what it will entail. A lot depends on your tastes and your goals, since most photographers will custom design your session to meet your interests and your desires. For instance, if you want to ride a mountain bike in your dress, your photographer will follow you and snap your picture engaging in the act. Some couples play on the beach in their wedding attire, lying in the sand and not minding when the waves lap at their exquisitely-clothes ankles and legs. Further, you can even dive all of the way into the ocean and submerge the dress, and get great footage from your effort.
Other types of adventures newly-married couples might select include rock climbing, exploring a cave, lying on railroad tracks, bowling, ice skating, running through a field or even visiting an amusement park. All of these are unexpected settings for wedding finery, and the contrast between the stark scenery and the fine lines of your clothing can indeed be striking. Further, the bottom line is that if you can think of it, you can likely find a photographer willing to document your experience.
The key, though, is that these sessions take place once the wedding is complete and you and your new spouse have made it through all of the stress and anxiety leading up to the event. Now, you can take the time to relax and enjoy yourselves and let your true happiness shine through for the camera.
The Destroyed Dress Is Often Just a "Side Effect"
Photographers who specialize in this artful take on newly-married life are quick to point out that for most couples, the destruction of the dress isn't actually the goal – the idea is to create an artful, photojournalist-style effect – but sometimes to get that perfect shot, the dress may need to be sacrificed. In return, you will have amazing photos of yourself to have and to hold long after your wedding has come and gone and the years have passed.
An Untraditional Tradition
While in the past many brides chose to preserve their gowns to pass on to future generations, those willing to sacrifice this item point out that wedding styles can evolve and change so quickly it may not end up being worn again anyway. This fact empowers some bold brides to feel that the unconventional photos of themselves in the dress may end up being a more valuable heirloom for their families in the end. In addition, from a practical note, by trashing the dress, you don't have to spend the money to have it cleaned, preserved and stored. So for some, this can be a winning alternative.
The Birth of the Idea
What is fueling the interest in this new and unusual trash the dress trend is the rash of news coverage on this that has appeared on television, online and in mainstream and alternative newspapers and magazines. Rumor has it that the idea was the brainchild of a Las Vegas wedding photographer who in 2001 began encouraging his brides to let loose in their dresses in order to to capture some more unconventional results. The unique photos he took inspired other photographers to follow his lead, and the trend grew from there into something that has become quite popular today, both in the United States and also abroad.
How to Find a Photographer
Many wedding photographers are branching into the trash the dress arena and offering this service to their forward-thinking clients who want to explore new realms in their photographs. If you are interested in having this experience, the best thing to do is to talk to any of the photographers you are considering for your big day to find out if they can also coordinate an after-the-wedding photo shoot. If this isn't their area of expertise, don't despair. Many photographers who specialize in this art are up for hire even if you don't use them for your event.
You can do a search online for photographers in your area to find some whose photos speak to you and catch your fancy. You can also visit Trash The Dress to find out more about this new phenomenon and learn about people who are working in this trend.
Some Things to Consider
Before committing to any photographer to handle this experience, always review samples of their work, ask for references from other couples who have used them in this capacity and make sure the photographers style and mannerism is a comfortable fit, since you will need to be relaxed in order to get the most out of this session. Be sure to determine your goals for this experience up front, so you can communicate your desires and vision with the photographer before he or she begins.
What It Costs
Since Trash the Dress photo sessions are still a relatively new idea, the costs for this experience are still relatively affordable at this time. Many photographers are still in the early stages of exploring this territory and therefore, are willing to coordinate a photo session for less than you would expect for such powerful pictures.
The price for an hour on-location session starts at about $100 from photographers looking to build up their portfolios. This is indeed a bargain price, when you realize that the photographer must travel to the spot you select, and lug all of his or her equipment and devote the time to set up and break down, too. Those wedding photographers who have a little experience behind them in trash the dress charge in the $300 range. Finally, those with a stronger photojournalism background can charge as high as $500 for the session, which can be well worth it to have their trained eye guiding you for the most dramatic results. These prices typically include a disk with the session results captured. (Actual prints are not usually included. These are typically priced at the same rate you will pay for wedding prints.)
So you can expect to spend between $100 and $500 for the photo session.
Keep in mind that some photographers will be willing to include a trash the dress session in the cost of a package wedding deal, so always ask up front if this is something that interests you. In addition, some newer photographers who are looking to branch out in this area are willing to do a few trash the dress sessions at NO Charge. In exchange, you just have to agree to let him or her post the photos on the company website as samples and to use it in various marketing material. If the photographer is talented and can get good results, this can be a win-win situation.
In addition to the price (or not) of the session, just keep in mind that you are also sacrificing your dress that you spent so much money purchasing just a few months ago. But if you are comfortable with this, then by all means go for it.
When You Want to Keep the Dress
Let's say you are dying to have some artistic photos of you in unconventional poses wearing your dress. But maybe you just aren't ready to let your beautiful gown be ruined in the process, either. The good news is that some photographers are willing to do trash the dress shoots that don't actually ruin your dress. The key is to let your photographer know well in advance that following the session, you will want to be able to clean and preserve your dress, or even sell it or donate it to charity. While you are taking a small amount of risk when you take your dress outdoors in a public or natural setting, with some good judgment you may be able to save the delicate fabric.
If you just can't bear to even take your dress outside and take any chances at all, though, there is one other option: You can buy an inexpensive used dress from a second-hand shop or online for a few hundred dollars or less that you won't mind ruining. Some modern brides are finding this a great way to have it all without having to make any sacrifices.
For a Good Cause
Most brides participate in a trash the dress session for their own personal reasons, but now, they can also do it to benefit others, since several charities are getting onboard with the new trend. Trashthedress.com recently partnered with the Breast Cancer Foundation to create Brides Against Breast Cancer. This event calls on brides to come out and donate their used gowns, and also has a bridal gown sale that makes new designs available for brides at a fraction of the regular retail cost. In addition, a variety of local trash the dress events are being held throughout the country to raise money and raise awareness about the risk different diseases, including breast and cervical cancer and to educate women about the importance of making healthy lifestyle choices and of undergoing regular screenings to ensure early detection.
Not Just for Brides
Finally, it is not only brides and their spouses who can participate in trash the dress sessions. Some photographers also offer this experience for high school and college students who want to do something similar wearing their prom or other formal dresses. Regardless of what you wear, this is a neat way to let down your guard and explore your more natural side for the camera.