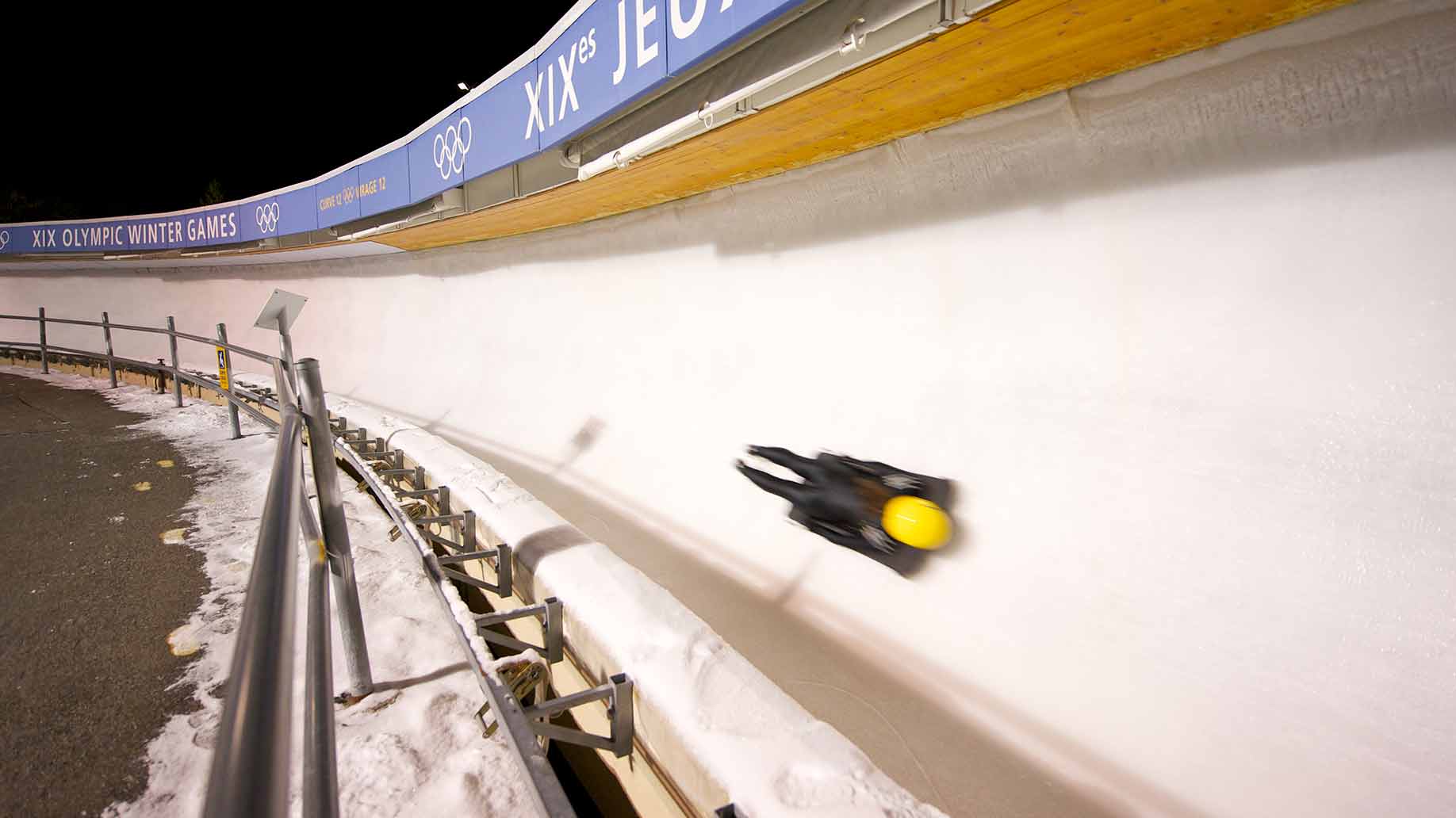 Ballpark Estimate: $100 to $2,000
Okay, pretend it's winter and you're a kid with a sled. You're standing at the top of Killer Hill. No, make thatSuicide Hill. It's the hill your parents told you to absolutely, positively stay away from because it was too dangerous. There are about a dozen other daredevils up there with you, but no one's worked up the nerve to give it a try. You measure it with your eyes and decide it's about a million feet to the bottom. A few kids decide it's too icy and back out, but you ignore them. It's just you, your sled, and the hill. You know this is it – the ride of your life. You grip the sides of your sled, sprint toward the edge of the hill, and launch. Next thing you know, you're speeding toward the bottom, totally out of control. The world is a blur. You hit a few bumps, a rock or two, you lose your hat, a boot falls off, the bush you were hoping you'd miss whips you in the face, and you finally flip and crash at the bottom. You lie there, covered with snow, staring up at the sky, and you laugh. You may be bleeding, for all you know, but you're still laughing.
If this sounds like you, then maybe Skeleton is your sport.
History
The first Skeleton race competition was held in the ski resort town of St. Moritz, Switzerland in 1884. Back then, it was really a singles toboggan race, and riders sat erect while they slid. By 1887, racers were lying in the prone, headfirst position used today, as they raced down the road from St. Moritz to a neighboring town, vying for first prize – a bottle of champagne. Five years later, a new sled was developed, made mostly of metal and vaguely resembling a human Skeleton. Skeleton racing was declared an Olympic sport in 1926.
The Skeleton sled sits only about 3" to 8" off the ground. The sled can be 32" (80cm) to 48" (120 cm) long, and 14" (34 cm) to 16" (38 cm) wide, for both men and women. Since heavier sleds go faster, there are strict rules about the combined total weight of sled and rider. For men, racer and sled can weigh no more than 253.5 pounds (115 kg). Women have a combined racer and sled weight limit of 203 pounds (92 kg).
How You Do It
To ride a Skeleton, you will lie belly down, with your head out in front of the sled and your legs and feet dangling behind. Your arms are at your sides. You'll be happy to know you'll be wearing a full helmet with face shield and chin guard, and many racers wear minimal padding as well, on shoulders, elbows, hips, knees, and hands. Your shoes will have steel spikes on the soles and an aerodynamic, injected polymer toe cap. You need the spikes as you push your sled and sprint for your start. The toe caps come in handy during the ride. There is no steering or brake system on a Skeleton. You steer by shifting your weight slightly, or by tapping a toe or toes on the ice. Dragging your toes slows you down if you think you're going too fast and might crash. Elite Skeleton athletes travel at speeds over 80 mph, and careening off the concrete and ice walls is inevitable and a part of the sport.
Utah Winter Games Clinics – Cost $100
If you want to see what Skeleton is like, your best bet is to participate in a 4-hour clinic run by the Utah Winter Games clinic program. In 2008, there were only three clinics offered in late January and pre-registration is always required. The clinic is open to those 14 years and older, and accepts a maximum of 8 males and 8 females. Instruction and ice time takes place at the Utah Olympic Park in Park City, Utah, and they warn that "you'll feel just like Superman, or perhaps like a hockey puck."
Skeleton Camps – Utah Olympic Park
Skeleton Introduction Camp – $200
You must be 13 or older to participate in this half-day camp. You will receive instruction and up to 3 ice runs.
Skeleton School – $600
You must be 14 or older to participate in this full day camp.
Skeleton Fantasy Camp
Park City – $1,800
Lake Placid – $2,000
You must be 18 or older to participate in these 4 day/3 night Skeleton Fantasy Camps, and there is a limit of 8 to10 participants. National Team Coaches and experienced athletes will teach you how to drive the sled, exercise and train, start, evaluate the track, and prepare and maintain the sled and runners prior to competition. The fee includes housing and meals, track fees, one year membership in the U.S. Bobsled and Skeleton Federation (USBSF), coaching, and use of equipment (sleds, runners, and helmets).
Recruiting
If you know that you're truly interested in the sport of Skeleton racing, you should attend a USBSF sanctioned training school at one of the two Olympic Parks in the U.S. – either Lake Placid, New York, or Park City, Utah. Here are some of the physical requirements listed on their website (www.usbsf.com):
Men
Height: 5'6" to 6'2"
Weight: 150 to 200 pounds
Speed: 4.00 seconds or faster in 30m standing start sprint 3.20 seconds or faster in 30m fly start sprint
Jumps: Vertical jump of at least 30 inches
Women
Height: 5'0" to 5'9"
Weight: 130 to 180 pounds
Speed: 4.50 seconds or faster in 30m standing start sprint 3.80 seconds or faster in 30m fly start sprint
Jumps: Vertical jump of at least 23 inches
USBSF Training Schools/Recruitment Camps
Cost not yet decided by USBSF
To participate in the training camps and the Development Program, you must be a member of the USBSF (Membership Cost: $25 Junior; $50 adult).
These are 5-day schools held at each of the Olympic parks. You will learn how to drive a Skeleton sled and be tested on your driving as well as your natural abilities in the sport. You will also learn start techniques and be tested on how well and how fast you can push the sled. In addition, there will be various physical tests like sprinting, jumping, and hopping.
If you perform well at the 5-day training school, the coaching staff may invite you to participate in the National Development program, which will bring you just a little closer on your quest toward the National team. Visit the USABSF website for Recruitment Camp dates and to download application forms.
The fee includes:
Housing and food in Lake Placid; Housing only in Park City
Track fees
Coaching
Use of Skeleton sled
Use of helmet
Train in Canada
Canadians – $345
Non-Canadians – $500
Athletes often train and compete in other countries in an attempt to earn a place on that country's national team. You can learn to Skeleton sled at the Canada Olympic Park in Calgary, Alberta, Canada. The Alberta Skeleton Association (ASA) offers a 3-day Skeleton School which includes instruction, coaching, equipment, and a one-year membership to the ASA. Participants must be 14 years or older.
Equipment
Most Skeleton athletes agree that of the three sliding sports (Skeleton, bobsleigh, and luge), Skeleton is the least dangerous! Injuries in Skeleton are mainly of the bruise, skin burns, and lacerations variety. Still, you get pretty banged up, and your equipment does too. If you get involved in the sport, expect to replace your equipment more frequently than your wallet wants you to.
Helmet with full-face chin guard and face shield –$300 to $500
Shoes (made exclusively by Adidas; shipped from Denmark) – $300 to $350
Speed Suit – (low-priced suits are Spandex; high-priced suits are made of high-tech aerodynamically enhanced fabric) – $99 to $249
Sled (training sled, used) –$1000 to $2,500
Sled (new sled) – $4,000 to $6,000
Runners (you will need many sets) – $800 to $1,000 per set