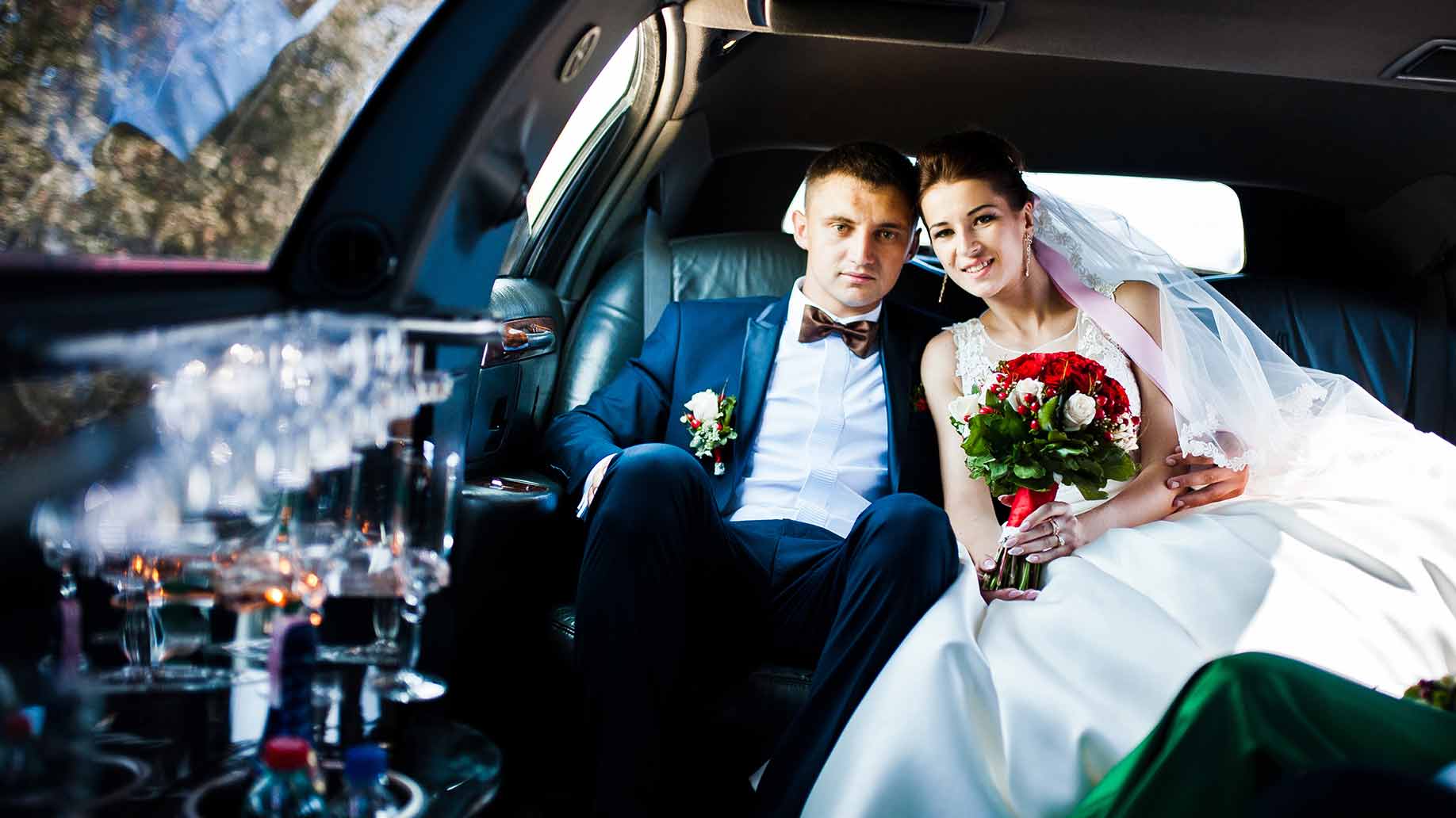 Ballpark Estimate: Between $300 and $1,000 plus tip
On your wedding day, you'll want to travel in high style. You can do this by hiring a limousine (or several limousines) for you and your wedding party so you'll also have a first-class ride.
Just remember that a limo is more than just a luxurious form of transportation. The driver is also essential to ensure that you'll arrive at your event safely and on time.
Size Matters
Limousines come in all shapes and styles. For such a big event, many couples splurge on a white stretch limo with lots of extras inside. These range from a 6-passenger style all the way up to one that can carry a dozen people or even more.
Many bridal couples prefer not to have one super-sized limo, but instead hire several cars so that after the ceremony is done, you newlyweds can travel alone and the families and wedding attendants can ride in other vehicles to get to the reception site.
How to Find a Wedding Limo
You can find limousine services that specialize in local wedding transportation in the yellow pages or by doing a search online. There are a number of online resources you can try, such as Limo.com and the National Limousine Association website. If you desire an antique car, you can also check with the Antique Automobile Club of America to find some options in your area. Or, you can use one of the many online wedding planning resources and guides. These include The Knot, Wedding Wire, and Wedding Vendors. You can also often find wedding limo service ads listed in wedding magazines or in regional wedding guides. Finally, you can ask your ceremony or reception site if they can provide names of limo companies that other couples have hired.
Factors to Consider
When you shop for limousine services, keep in mind that won't want to choose on price alone, since not all options will offer the same quality vehicle and the same level of service. Therefore, you should determine what your priorities are and what kinds of details are most important to you. For instance, do you want a new, high-end model limo or desire an antique/classic car? Does the level of experience the driver brings to the job make a big difference in your book? Do you feel more comfortable contracting with a small, private company that just owns a small fleet of cars, or do you want to go with a larger chain? Also keep in mind that some services will also put a lot more time and money in the maintenance of their vehicles than others and will also offer you a more lavish experience, with every need attended to and every single detail coordinated down to the very second.
All In Good Time
When you want to book a limousine for a wedding, it's important to reserve your date in plenty of time. Most limo services recommend doing so at least a year in advance, then checking in about a week before your event just to confirm that everything is all set.
Always ask the company to give you a written contract so you will know exactly what you are agreeing to pay and what you will get in return for your money. Find out how if there's a minimum or maximum in terms of the hours required, whether the make, model and year of the car vehicle is guaranteed and how many passengers it will accommodate. If you have reserved multiple vehicles, make sure this is also specified. Also ensure the contract spells out the payment requirements, such as whether mileage is included and if not, what the rate is per mile. In addition, if you'll be paying by the hour, be sure to find out if the travel time starts when the limo leaves it's origination point, or whether the clock starts when it arrives to pick you up. This can make a big difference in what you'll pay, especially if you live in a very rural area where things are very far away.
Details Make a Difference
Some of the types of extras that some limo services will offer for bridal couples include:
A red carpet
Flowers
Mini bar, champagne and other drinks served en route
Leather interior
Large screen TV
Balloons and other decorations inside the limo to set the festive mood
A "Just Married" sign for the window
A uniformed chauffer
Privacy glass to allow you and your spouse to enjoy your first ride alone as husband and wife
VIP service
Attention paid to your special requests
Safety First
In addition to all of these types of extras that can make your wedding day extra special, you'll also need to ensure that the limousine service you select makes safety a priority. All limousines must be licensed in their state and have proper commercial insurance. To ensure a company's reputation, you can check with the Better Business Bureau. Many respected companies are also affiliated with the National Limousine Association or your local livery association.
What It Costs
What you will spend to hire a wedding limo depends on a number of variables. For instance, the larger capacity that the limo can hold, the more you can expect to pay. The newer the vehicle model, the more expensive as well. Then, the time of year when your wedding is held can also impact what you will spend. Rates are often higher in the spring, since this is a particularly busy time of year not only for weddings but also for proms, graduations and other formal events. In addition, the weekend rate is usually higher than you can expect to pay on a weekday. Holidays are also usually more expensive.
Some limousine services charge by the hour for some events, but many will offer a flat rate package price for weddings and most experts say this is the best way to go, so you don't have to worry about any extra details in the midst of your event. This it won't matter if your ceremony is running late or anything else goes off schedule, which often happens.
Here is an idea of what you can expect to spend:
A basic six-person limousine can range between $50 and $100 an hour.
For a higher-end vehicle or classic car, the price can be between $100 and $300 an hour.
A flat-rate wedding package can be between $300 and $500 to book a standard stretch limo for your event.
For a luxury vehicle or antique car, this can cost between $500 and $1,000 or even more to book for your wedding day.
Ask up front if the extras you want, like a mini bar, television and red carpet, are included in the cost. Many limo services will incorporate such details right into the package price.
You'll also want to find out if a tip has been added in. If not, you should expect to give the driver 15 to 20 percent gratuity.
So you can expect to spend between $300 and $1,000 for your wedding limo plus tip, depending on exactly what you select.
Final Note
It's worth pointing out that while most vendors charge more any services related to your wedding, some limo companies will actually offer a break on their rate for newlyweds who will be hiring multiple vehicles for their events. If you plan to get several limousines to accommodate your bridal party, family and special guests, always ask about this option when you negotiate.