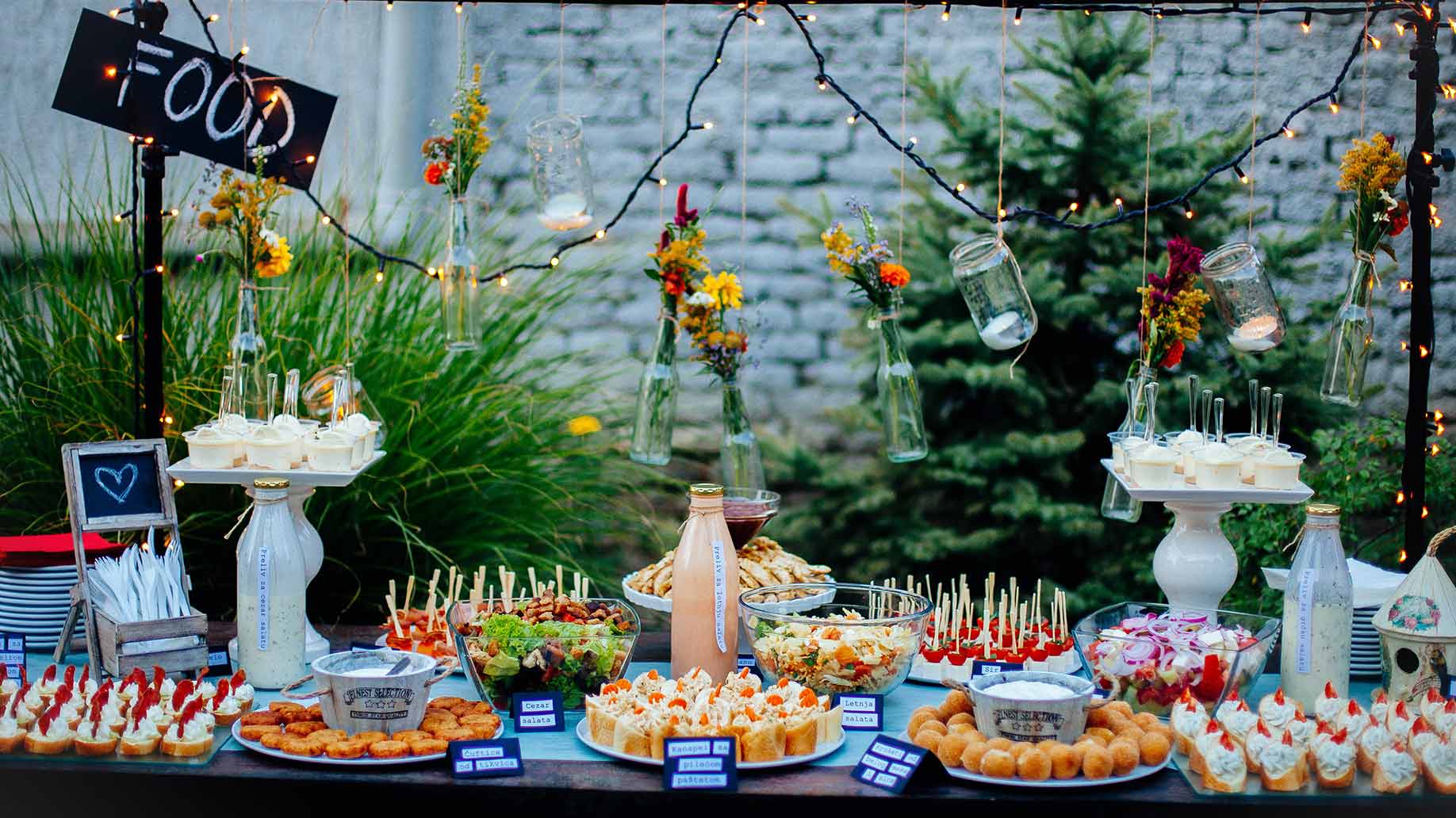 Ballpark Estimate: $9 to $25 a person, plus drinks and extras.
Do you love having friends over but hate all of the work and preparation that goes along with entertaining them? Then next time you plan a get together or small party to celebrate a special occasion, consider hiring a caterer to handle most of the details for you.
The Concept of In-Home Caterering
There is something so intimate about having people in your home that is difficult to recreate in a restaurant or hall setting. When you host a party in your home, you also get to use your favorite linens, serving dishes and china and decorate with extra special touches. This adds a very personal feel and can help make your guests very comfortable. But of course shopping and cooking all of the appetizers and food you want to serve can be difficult and time-consuming.
If the work involved in having a small party seems overwhelming, there are a variety of catering options available. Some caterers will prepare food right in your home, while others will bring the food all ready-to-serve. In addition, some caterers will help you with the set-up, serving and clean-up. You can also opt for freshly-cooked made by your favorite restaurant.
The trick in catering the perfect small party is in finding an experienced caterer who will meet or even exceed your needs and at the same time, is willing to keep the costs within your budget.
The Sky Is the Limit
When it comes to catering, the sky is the limit. There are numerous catering scenarios to choose from that just might catch your interest. You can explore some of these ideas or come up with own unique theme. Whatever you want, find someone to help you make it happen and then sit back and enjoy the results.
Hire a trained chef to cook and serve a meal in your home. This is a great alternative to eating out, and allows you to relax and enjoy yourself while impressing your guests with delicious, home-made food. This is a perfect option to celebrate a birthday or other milestone.
Look to a small local caterer who will provide a clambake, barbeque or fancy picnic in the comfort of your own backyard. This is a relaxed, casual event that can be fun for you and your guests.
Order an array of appetizers and finger food from a local restaurant and share it with friends while you watch a sporting event. This is an easy, and delicious, way to support your favorite team and enjoy some tasty treats at the same time.
Order an array of appetizers and finger food from a local restaurant and share it with friends while you watch a sporting event. This is an easy, and delicious, way to support your favorite team and enjoy some tasty treats at the same time.
Things to Consider
In addition to deciding what type of party you want to host, there are a number of other factors to consider that will affect the price and what you should request.
How many people will attend
What date and time of day the party will be
How long you expect the event to last
Whether you want to provide a meal or a buffet
How many courses will be served
What kind of food you want to offer
Whether you want a caterer to do the shopping, serving and cleanup
What your budget is
What kind of alcohol, if any, you will offer and whether you want the caterer to provide it or you prefer to buy your own, and if you want to hire a bartender to serve
What details you prefer to handle yourself
How to Find a Caterer
Once you've defined the feel and scope of your event and nailed down some of the deciding factors and details, you can search online for caterers that serve your area. Also browse the Yellow Pages to see the range of services that are available locally. Check with family, friends and co-workers for their recommendations. In addition, ask a restaurant you enjoy if they prepare food to go in larger portions.
When you find several good caterers you are interested in, call and describe the event you envision and see who seems like a good fit for what you need. Also ask for references so you can talk to other customers and find out if they were satisfied with the service they received.
You can ask the caterer to create a sample menu and pricing so you can see what it will cost. Always be sure to tell the person how much you have to spend and ask him or her to plan something within your price range. This can help you avoid lots of headaches and over-spending. Also find out if it is possible to do a tasting.
In addition, ask caterers what training and experience they bring to the job, whether they are insured, and whether they have been certified in accordance in safe health and sanitary practices. Keep in mind that many home caterers may not have formal job training but may have learned the art of cooking in an informal setting. This is perfectly acceptable as long as they meet all health and safety requirements.
Finally, even if you plan to go with a small caterer, ask for everything in writing. You want to formalize your agreement and spell out all costs up front so you don't have any surprises later. Always ask what the payment structure is (ie., how much you need to pay in advance and when the balance is due) and also about the cancellation policy.
What You Can Expect To Pay
The price for catering a small party in your home can span quite a large range. This is because the number of guests, the type of food and drinks you serve and the size and popularity of the catering service all play into the equation. In addition, the area of the country in which you live can also make a difference.
For a catered dinner or event, the prices are usually calculated at a per-person rate and you are required to guarantee a minimum number of guests.
To give you an idea of what you can expect to spend, prices can start at about $9 a person for very simple choices and can go on up to $25 a person or more for more elaborate fare, such as prime rib or king crab.
Note that drinks, wait staff, set up and clean up and delivery may be additional charges.
It is also worth pointing out that if you want to throw a very informal catered party for a sporting event, instead of going the per person route, you can often order platters of appetizers and sandwiches that will feed a group of 15 to 20 people from a local restaurant that caters for about $120 to $150 plus delivery. This would be apt to include a few all-time favorites such as buffalo wings, nachos, meat balls, wings and/or cold cuts.
And whether you go with a formal caterer or a restaurant that delivers, tips are generally expected.
Flexibility Is Key
When selecting a caterer and planning your event, keep in mind that it's usually not an "all or nothing" situation. Use your creativity and ingenuity to get what you want without sacrificing the important things. This means, for instance, that if you plan a dinner party for a group of friends, you can invest the bulk of your money into having the main course cooked by a fabulous chef, but then make the salad and desserts yourself to keep the price down but still get everything you need and have a fabulous event.