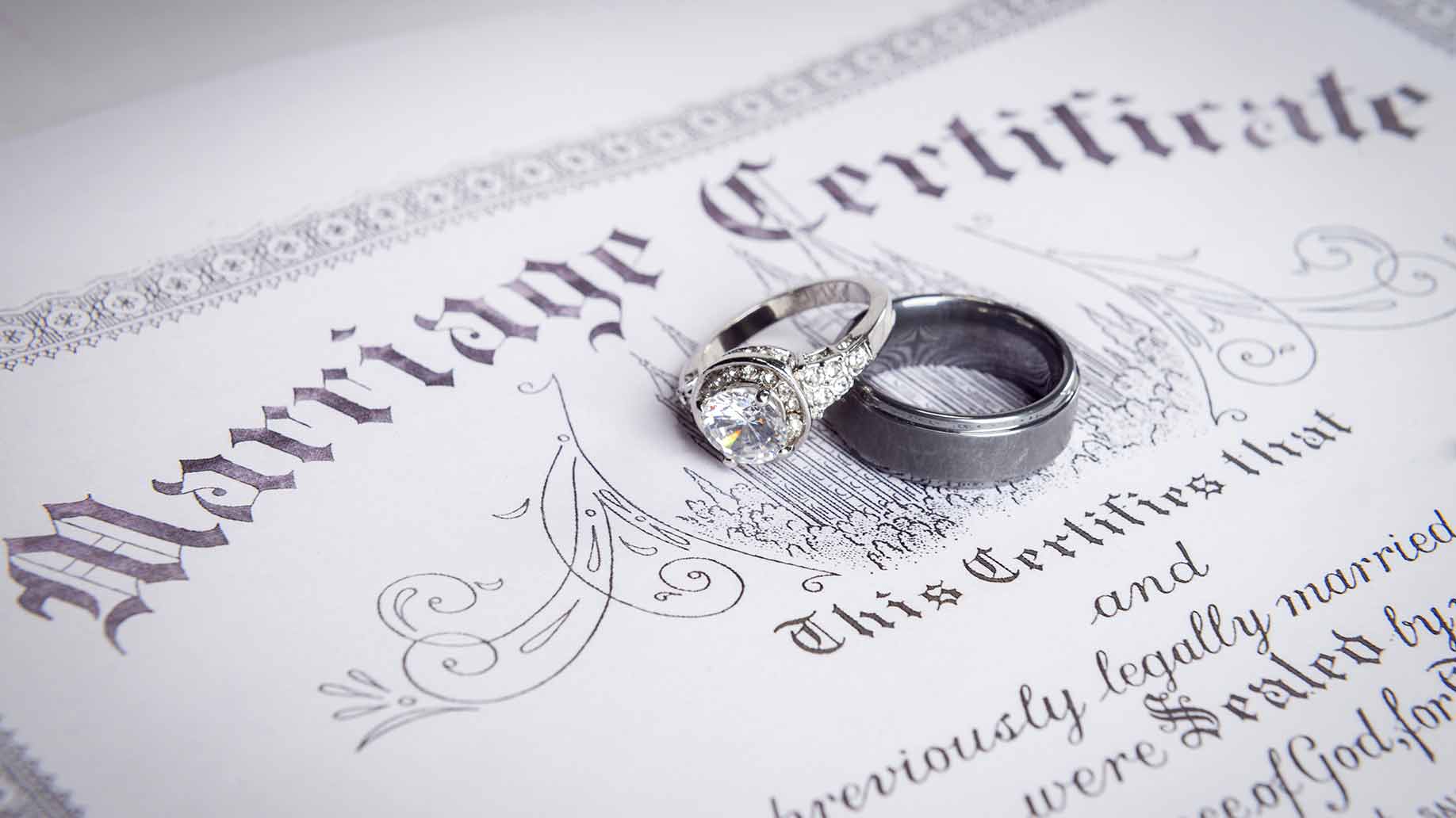 Ballpark Estimate: $4 to $100 (varies by location)
You might think that the hardest part of getting married is finding the person you want to spend the rest of your life with. While this is certainly true, there's also some work involved in getting your marriage license, too.
Marriage License Basics
Whether you have your heart set on a big formal wedding or you plan to elope at city hall, getting married in the United States requires some advance work and planning. This is because every state in this country requires couples to apply for a marriage license that gives them "permission" to become legally wed. The rules and requirements for this license vary from state to state, though, and even from community to community.
What's Involved
When you are ready to apply for your marriage license, you should call your town clerk (or the clerk in the location where you'll have your wedding) to find out their specific protocol. Some places require you to make an appointment to apply for a marriage license, while in others you can just drop in during business hours. To find more about wedding license requirements, you can look do a search online, visit your state and/or city website, or begin with some of the popular Internet wedding resources, such as The Knot, Brides.com, and The Wedding Channel. You can also go to MarriageLicense.com and US Wedding Laws.
Variables to Consider
To get an idea of the types of details you'll need to know before you apply for your marriage license, read on and find out some of the requirements and how they may vary.
Timing
Wonder when you should apply for your marriage license? It all depends. Some states have a mandatory waiting period of up to a few days between applying for the marriage license and when you receive it. You may also have a waiting period of a few days after you receive it before you are allowed to make your relationship legally binding. The idea behind these delays is that it gives the couple time to think before rushing into a legally binding arrangement, but it also means that you'll need to plan ahead for this, especially if you'll be getting married out-of-state. On the other hand, many marriage licenses also expire quickly. It's not unlikely for it only to be valid for a week or two, so you'll need to coordinate all your dates ahead of time to be sure you'll be safe on both ends.
Location
If you're having a destination wedding, you should also ask about any residency requirements that you may need to know about. This can be a consideration especially when your wedding will be held outside of the United States and can take some research and coordination on your end to be prepared for anything that could come your way.
Proof of Identity
In order to apply for a marriage license, you'll also need to prove whom you are and that you're a legal United States citizen. Some accepted forms of identification include your birth certificate, driver's license, social security card and passport. If you've ever been married before, you'll also need to show need proof that the former relationship is legally dissolved, such as divorce papers or a death certificate.
Blood Tests
A handful of states today require people who want to get married to undergo blood tests that will screen them for any sexually transmitted disease and other illnesses. If your state requires this, you'll need to get this done in advance and bring the lab results with you for your marriage license application.
Age and Relations
If you or your fiancé are extremely young, you'll need to check on the minimum age requirements in your state. Many states require the bride and groom to be at least 18. Some states will allow someone younger to marry with parental consent.
In addition, state marriage laws also govern such things as whether blood relation can marry, as well as whether same sex marriages will be permitted.
Process
Both you and your fiancé need to go together to the town clerk's office to fill out the application paperwork. You should plan to bring your forms of identification, any blood test results if needed, and if either of you has been married before, proof that the relationship was legally dissolved.
Once your wedding license has been officially granted, you'll need it at your ceremony so that your officiant can sign it. You and your new spouse (and sometimes a witness or witnesses), may also need to sign this document. Then the marriage license will be submitted back to the clerk's office and used to generate your official certificate of marriage.
What's in a Name
In the process of getting married, most states also give you the option of deciding whether to change your name. If you or your spouse decide you want to adopt the other's surname, or want to combine both of your surnames, you can fill this information in on the marriage license and it will be legally recorded.
What It Costs for a Marriage License
What you will spend on a marriage license varies a great deal from state to state and even from community to community within a state. Keep in mind that the requirements can change frequently, so the rules and cost you find out one year may be completely different a year later.
Therefore, the best way to protect yourself and make sure that your wedding plans won't hit any snags along the way is to contact the town clerk's office in the community in which you are planning your wedding a few months in advance of your date. You should also plan to confirm the information a few weeks before, just to be sure nothing significant has changed.
As of the fall of 2010, Massachusetts was on the least expensive end to get a marriage license, (but with much variation between communities and some cost a lot more), while California and Minnesota were on the high end.
It's worth noting that if money is tight, it can be a good idea to shop around and see what city will give you the best deal. Often you can apply for a permit in one city but can use it elsewhere in the state. However, you'll want to confirm this fact before you start the application process.
So you can expect to spend between $4 and $100 on a marriage license, with more couples spending on the lower to middle end of the range.
Note: Some states will accept money order or a cashier's check, but others require cash only.
Outside the US
If you're planning a wedding outside of the United States, you should contact the embassy of the country where you want to get married to find out their specific requirements for marriage licenses.