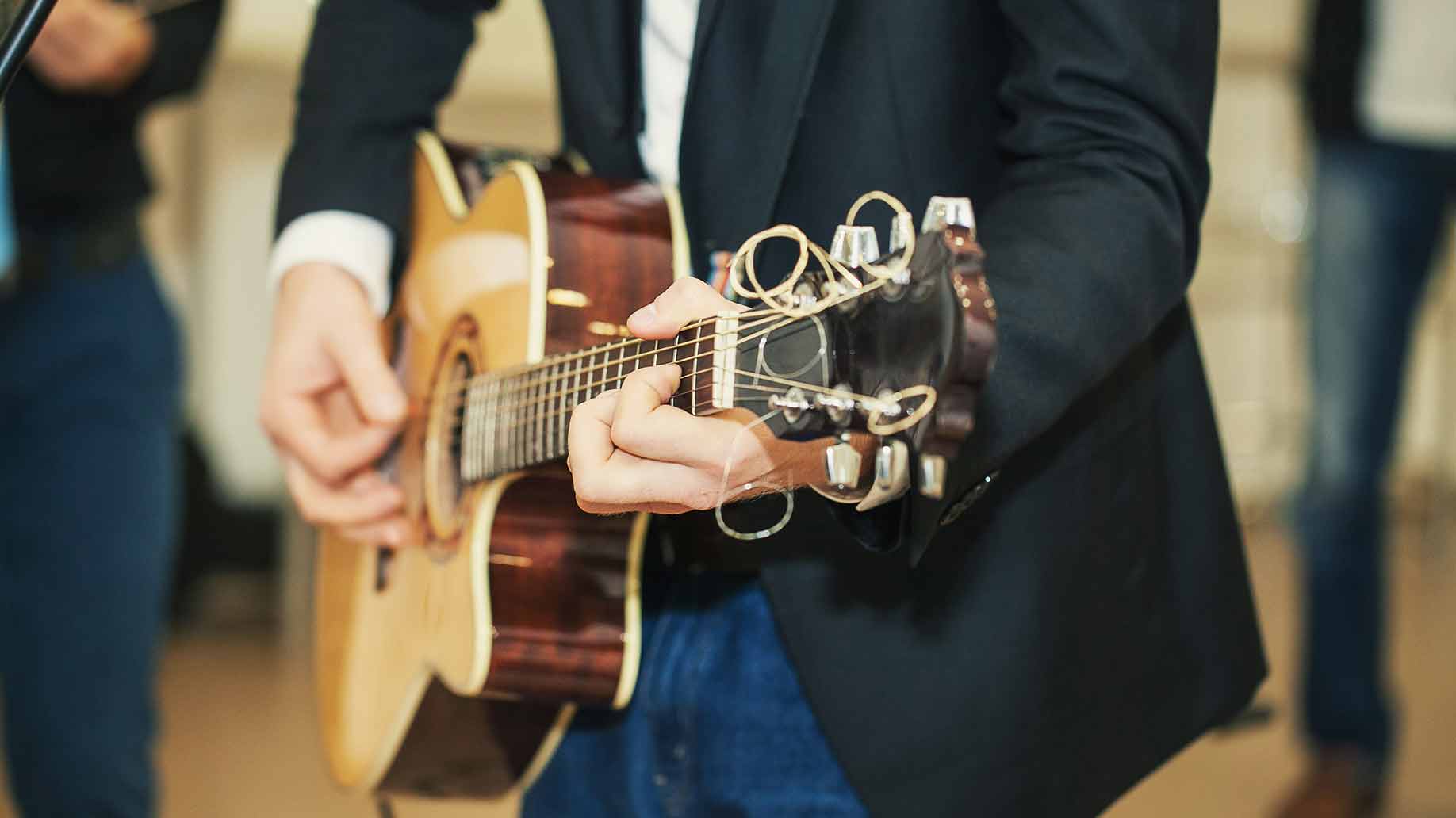 Ballpark Estimate: $2,000 and $5,000
You've probably put much thought into selecting the perfect wedding song to take center stage at your special occasion, and you've been practicing your dance moves for months. Now, hiring a live band to create the rhythm and bring it to life will help you to ensure that everything goes just right on your very special night.
Cover bands are usually the most popular choices for weddings. These are bands that can play a range of popular styles and tunes, making them quite versatile. This is a good way to meet your own personal musical preferences and still be able to appeal to a wide range of guests.
Things to Consider
When you decide to go invest in a band to play live music for your wedding, there are some benefits you can expect to get in return for the expense. First, when you hire a professional band, the excellent music can add an energetic vibe to your event and will encourage your guests to get up and dance. You can also expect a band to produce much higher-quality sound than you would get from a DJ. In addition, many bands can put their own spin on the music, which can add a unique touch.
On the flip side, though, it's important to note that the cost of a band can really eat into your wedding budget. In addition, many bands have their own distinctive sound, which may not lend itself to some of the types of songs you like. Further, some bands can also be quite loud for your space and this can make it difficult for guests to talk and mingle. Children and older adults may find the noise level particularly difficult to handle.
How to Select
Before you formally hire a band, just keep in mind that you'll need to find out exactly what your wedding venue can support. Once you know the logistics, then you can begin the shopping process. If you have a wedding planner, you can ask him or her to find you some bands that are in your price range and are available for your date. Or, you can ask the manager of your location if they have any bands that regularly play there and are familiar with the setup. You can also ask family and friends for recommendations.
Another way to explore your options is to look online through some of the many wedding websites available, such as The Knot, My Wedding, The Wedding Channel, Perfect Wedding Guide, Wedding Zone, Wedding Central, and Brides. These and many other online resources provide wedding directories that you can search by location and type in order to locate vendors that might meet your various desires and specifications.
Ironing Out the Details
When meeting with a band you're considering, be sure to communicate up front exactly what your goals are and your musical preferences. You can also ask to listen to a demo tape and even to listen to them perform in person if they have any public gigs coming up. It's also a good idea to ask for references from other couples that have used them for an event so you'll know exactly what to expect and feel confident that their performances are indeed successful.
If everything seems in order, the experts stress the importance of getting a formal contract that spells out all of the details. Be sure to cover all of your bases by discussing how many singers and musicians will be provided, what type of breaks the members will take (it's typical for them to require one five to 15-minute break every hour or two), whether all of the equipment is included and how many hours the band will play. Keep in mind that you'll also need to account for the setup and breakdown, which can take several hours on top of the actual playing time. Also, find out if the bandleader will emcee your event and what that involves exactly. In addition, it's extremely important to be sure that the band has liability insurance in case any accidents occur while they set up or play.
You should also discuss what emergency plans the band has in case the lead singer should be ill on your wedding day. A contingency plan should always be in place. In addition, you should work out up front what will happen if your wedding reception goes longer than planned and you need to pay the band overtime. Often an hourly rate can be agreed upon before such a scenario takes place, so there won't be any questions or discrepancies later.
What It Costs
If you wonder how much you can expect to spend on a band, it depends on a variety of factors. First, you'll need to consider how well known the band you select is, how many members it has, how long the group members have been playing together and the number of followers/level of interest they draw. All of these details can affect the price they will charge. In addition, the day of the week and time of the year of your wedding can also be factored into the financial equation.
While much variation exists when it comes to band pricing, you can expect an average local band to charge somewhere between $2,000 and $5,000 and up. On the lower end of the price range, you may get a group with fewer musicians (about five members is typical), while on the high-end you could get a band with more musicians and a larger following.
It's also worth pointing out that if the band you select ends up being such a hit with your guests that they don't want them to stop, you can often arrange to pay an additional fee to keep the music going. You should negotiate this amount up front so you will know what to expect. It may be whatever the price you pay comes out to per hour (so a band that charges $2,000 to play at a four-hour reception might ask for $500 to add on one more hour.)
So you can expect to spend in the range of $2,000 to $5,000 (or between $500 and $1,250 per hour of playing time) and up for a local band to rock your wedding.
Putting It Into Perspective
You can also look at the expense of hiring a band within the context of your larger wedding budget to determine about how much you should spend. Some experts say that the music for the ceremony and reception should be one-tenth or less of your overall expenses for your event. This means that for a $20,000 wedding you should allocate up to $2,000 for music, while for a $50,000 wedding, you might spend up to $5,000 on entertainment for your guests.
If Money Is No Option
Also keep in mind that, if money is no object, you can hire a nationally-recognized band starting at around $50,000. Or, you can even hire a national or international rock group with a large following, such as Aerosmith, Paul McCartney or Jennifer Lopez for $1,000,000 and upwards.
Budget Option
It's also worth noting that if your budget is quite tight but you have your heart set on having live music, you may not have to sacrifice your dream nor go for broke either. Instead, you could ask family and friends if they know any struggling musicians they can recommend. Ideally, you may be able to find a start-up band that's looking for some exposure and would be willing to play for just a few hundred dollars.