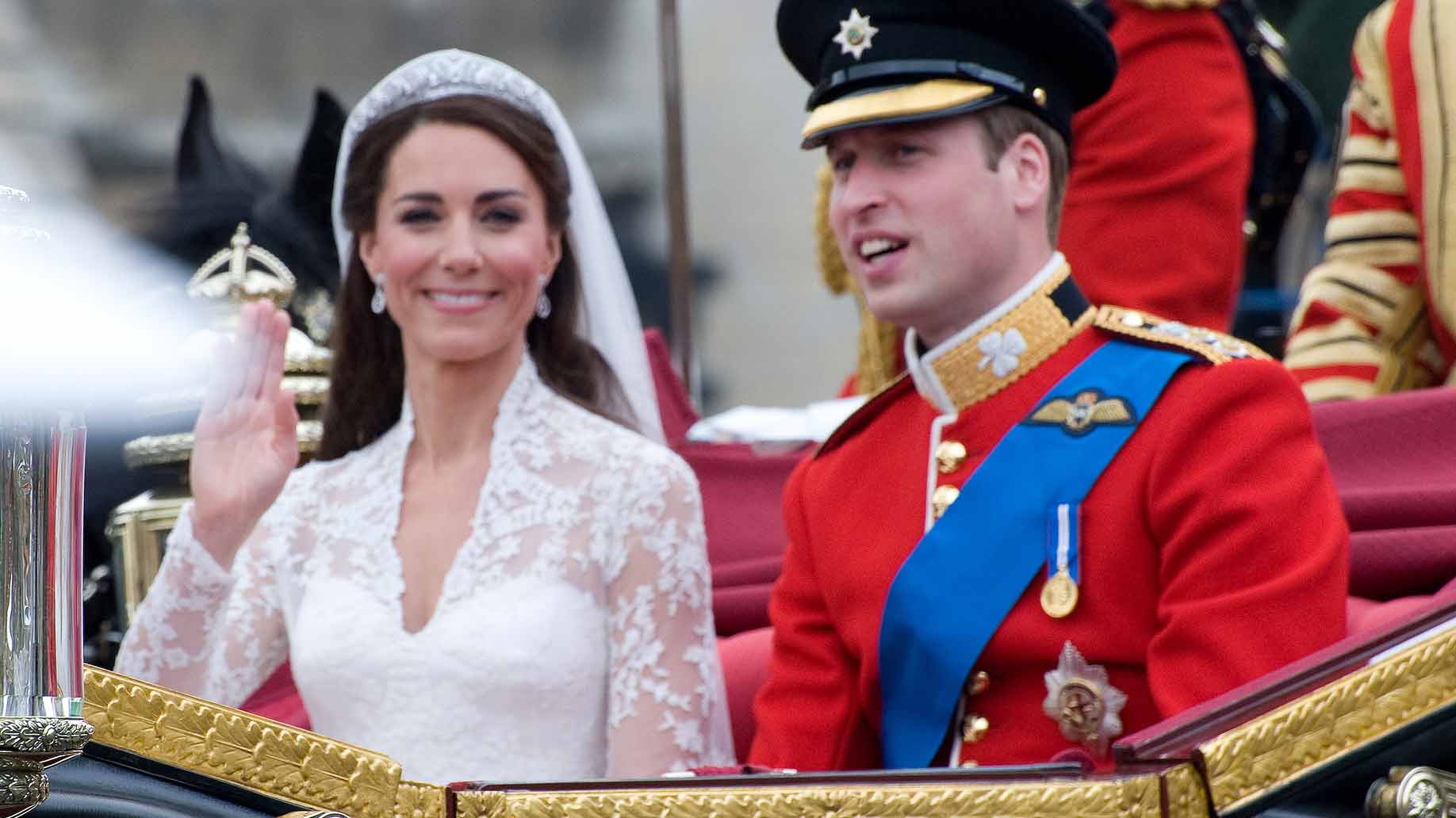 Ballpark Estimate: Custom made: $83,000 to $420,000; Replicas: $1,000 to $5,000
Every bride wants to feel like a princess. But few have the chance to follow in Kate Middleton's footsteps and take on the official title when she exchanges her wedding vows.
Princess Wedding
When Kate (whose maiden name is Catherine Middleton) married His Royal Highness Prince William Arthur Philip Louis of Wales on Friday, April 29, 2011 at Westminster Abbey, she traded in her commoner status to become Princess William (this is the proper way to refer to her now, according to British etiquette) and she is also now officially the Duchess of Cambridge.
Allure of the Dress
Even if you aren't marrying the prince of England, though, you can opt for a princess-inspired wedding dress that captures the silhouette of Kate Middleton's gown, which was custom designed by Alexander McQueen Creative Director, Sarah Burton. This is a simple but effective way to capture a bit of Kate Middleton's regalness.
In fact, in response to the overwhelming interest in the Kate Middleton's wedding dress, many wedding gown designers are copying the Alexander McQueen design and making similar styles available in wedding boutiques and also online.
Mystery Surrounding the Dress
Until Kate Middleton arrived at Westminster Abbey for her famous walk down the aisle to meet her prince, the designer of her wedding dress was a well-guarded secret. However, there was much public speculation over which wedding dress designer would be selected for the honor. Some people even placed bets on who had this prestigious role. But while the mystery remained until the end, some fashion insiders already had their money on Burton, who took over leadership of the fashion-forward label McQueen label after the founder committed suicide in 2010. Burton is known for creating wedding dress designs that are a unique mix of cutting edge style and timeless appeal and this selection helps cement Kate Middleton's place in the high fashion world.
Multiple Princess Wedding Dresses
Kate Middleton is said to have worked closely with Burton on the design, incorporating some of the elegance reminiscent of past decades, while also keeping a fresh and modern edge that reflects the princess' own aesthetic. Many people have described the Kate Middleton wedding dress as a throw back to Grace Kelly, a well-known American actress who wed Prince Rainier of Monaco in 1956.
The designer also created a second wedding dress that the bride wore at her reception at Buckingham Palace, which was also floor length in a similar silhouette. This one was adorned with a fur shrug, which gave it a more casual feel. In addition, Kate Middleton designed the sleek sheath wedding dress worn by Kate's younger sister Philippa (commonly called Pippa), which also received much attention.
The Difference Is in the Details
Wonder what makes Kate Middleton's wedding gown so special? Kate's ivory satin bridal gown features long sleeves with a fitted lace bodice appliquéd with symbols of the United Kingdom nations and a sweet heart neckline. The wedding dress is made from a lace appliqué created through a process called Carrickmacross craftsmanship that features symbols that represent each nation of the United Kingdom, including the rose, thistle, daffodil and shamrock. Professionals through the Royal School of Needlework created these details by hand.
The rest of the Kate Middleton's wedding gown was also sewn entirely by hand, using expert seamstresses. To ensure the fabric stayed pristine, the seamstresses paused every half hour to wash their hands and also replaced their needles frequently.
The wedding gown was slightly padded in the hip area to emphasize the waist and create a Victorian-inspired silhouette with a corset-like style. The skirt flared out from there in a delicate A-line style that opened gently in soft, flower-like pleats. An underskirt made from layers of fine lace and tulle enhanced the elegant shape as Kate Middleton walked down the aisle. The back of the wedding gown was accented with a row of 58 exquisite buttons that fastened using Rouleau loops. The dramatic finishing touch on the wedding dress was a 3 metre (or 9 foot) train. Kate also wore a full veil and lace-adorned shoes also made by the Alexander McQueen team.
The Princess Wedding Gown Follows Tradition
Like most brides, Kate Middleton chose to follow tradition with her wedding gown, incorporating something old, something new, something borrowed and something blue. Sources report that the bodice design with the Irish Carccickmacross craftsmanship (whose origins date back to the 1820s) was something old, while the wedding dress itself was something new. Something borrowed was a Cartier diamond tiara she wore in her hair that was a birthday gift to Queen Elizabeth on her 18th birthday, and something blue was a little piece of blue ribbon sewn into the lining of the princess wedding dress.
Complementing the final effect on the wedding gown was an ivory silk tulle veil accented in delicate flowers embroidered by hand. The princess also wore diamonds earrings that were a gift from her parents. These incorporated an oak leaf design in honor the Middleton family's new coat of arms.
A Star Is Born
Fashion insiders predict that Kate Middleton's couture wedding gown will influence the shape of bridal fashions for the next few years and even beyond, causing women to embrace more class style in place of the strapless, slinkier numbers that have been in vogue recently.
Already many brides are looking for replicas of the royal wedding gown and bridal designers and seamstresses have been busy creating copies of the original design. In fact, some stores in the United States and abroad already had their copies underway only a few hours after Kate walked down the aisle.
Although the new princess stands 5'10'' tall and has a very slim, athletic frame, stylists say that this particular wedding dress design will be flattering to a broad range of body types, making it a very versatile choice.
Where to Find Your Kate Wedding Dress
If you want to wear your own Kate Middleton-inspired wedding gown, you have a few options. If you're a celebrity or have unlimited funds at your disposal, you can commission Burton and the Alexander McQueen team to come up with a custom design for your specifications. Of course this wedding gown wouldn't be the same as Kate's but would be tailored for your specific figure, taste and style preferences. But for most brides, who don't have direct access to high profile designers, the next best thing is to shop for one of the mass-market replicas that are hitting bridal boutiques worldwide and are available via the Internet, too. You can also shop at local bridal shops and well-known stores and chains like Davids Bridal and Kleinfeld Manhattan. (In fact, Kleinfeld's has just announced it is in the process of creating an exact replica of this princess wedding dress). You can also visit the websites of wedding gown designers such as Priscilla of Boston, Vera Wang, Carolina Herrera, and Monique Lhullier. Many of them will have wedding dresses that feature some of the elements in the Princess' gown that may appeal to your senses, such as a lace detailing, a corseted bodice and ball gown shape.
What It Costs
Are you eager to know how much Kate Middleton's wedding dress actually cost to make? If so, you certainly aren't alone. Many people are curious to know the wedding dress price and there are many cost estimates as to what it would cost for someone to buy the wedding dress that are traveling around the internet. The rumors span a wide range, starting at about $83,000 U.S. dollars and going up to almost $420,000 . The exact number is difficult to quantify, though, since so much extra handwork and detailing went into the final creation.
Replicas of the princess wedding gown are already available at a wide variety of price points. These are similar styles, but remember that the quality of the materials will be much less expensive so you can't expect to have the wedding dress look exactly the same. You can find a princess-inspired dress starting at about $1,000 and going up to $5,000.
Final Note
The Duchess of Cambridge/Princess William is not the first notable figure to wear a Sarah Burton wedding dress. In fact, Kate Middleton was first introduced to Burton's work when she saw a wedding dress the young designer had created in 2005 for Sara Buys, the bride of the Duchess of Cornwall's son Tom Parker Bowles. (The Duchess is William's stepmother.) Burton has also designed clothing for First Lady Michelle Obama, Supermodel Naomi Campbell and actress Gwyneth Paltrow .