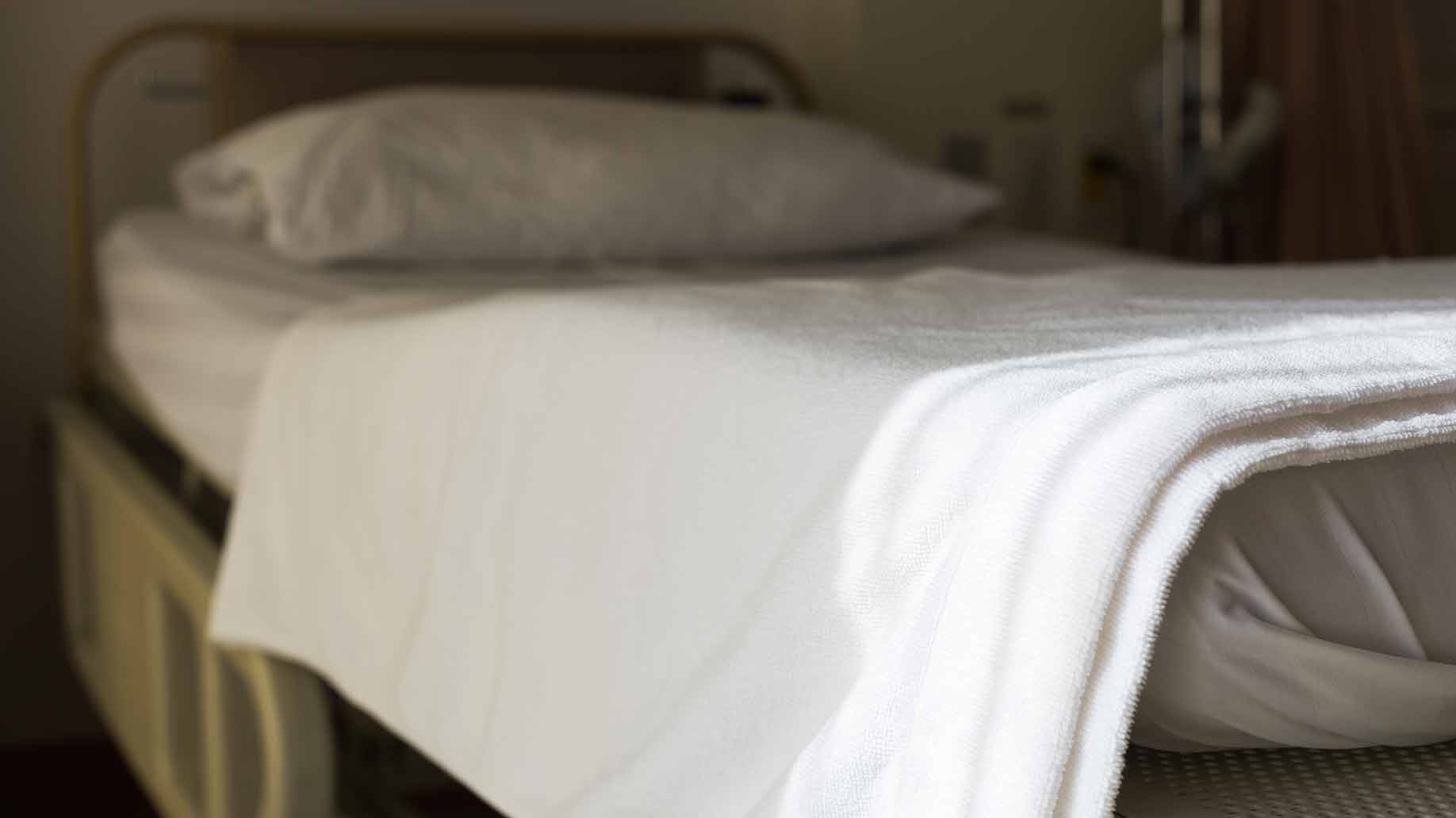 Ballpark Estimate: $200 to $500/month to rent; $500 to $2,000 to buy.
The familiarity of your home environment is often the most comfortable place to recuperate from a serious illness, injury, or surgery. But most homes are not equipped to meet all of the different health concerns of someone recovering from a medical problem. Therefore, if you or someone you care for is incapacitated, you may wonder how to turn a home into the best and safest medical setting.
Some medical supply companies sell or lease hospital beds that you can use at home to care for a loved one with a variety of health needs and requirements.
Why a Hospital Bed
Unlike "regular" beds, which are stationary, hospital beds can be adjusted for different purposes. For instance, the back or feet can be raised, or the bed can be separated into special sections to make it possible to use medical equipment, due to needed testing, or simply to increase the patient's comfort level. The height of the hospital bed can also be adjusted in most cases. The way these tasks are performed though, varies depending on the type of hospital bed you select.
Hospital Bed Types
There are three basic styles of hospital beds: manual, semi-electric, or full electric beds. The difference in these types is exactly how the features are operated. In a manual hospital bed, the foot and head portions are usually moved using a hand crank. The same is true of the bed height. Semi-electric hospital beds have a control panel that allow users to move the head and foot of the bed, but in order to change the hospital bed height, this much be done manually with a crank. Electric hospital beds have a panel that allows users to control all of these features automatically.
Other Hospital Bed Features
Many hospital beds also feature side rails, such as those that are used with small children, which can be important to keep the patient safe and to prevent falling. You can get automatic rails, which can be lowered or raised with the push of a button, or rails that you add yourself that need to be moved manually.
Other Details
You can expect a hospital bed to be on wheels, which makes it easy to change the bed's location as desired. Just be sure to lock the wheels when the hospital bed is stationary so there's no danger that the bed will inadvertently move when you aren't expecting it.
If you need to accommodate any special medical equipment, such as intravenous bags, oxygen, or monitoring equipment, many hospital beds also have attached poles that can make it easy to use these supplies and keep them out of the way. Among the many other extras you can select include a table tray that fits over the hospital bed and a trapeze that can be used to help the caregiver lift and lower the patient smoothly.
Insurance Matters
When you need a hospital bed at home for medical reasons, you can talk to your insurance company and find out if they will cover some, or all, of the bed's expense. Medicare will also cover a hospital bed when it's medically necessitated. To qualify for coverage, your doctor will be required to fill out some paperwork.
Your doctor should also be able to recommend a company that can provide you with a hospital bed to buy or rent. (If Medicare is the insurance provider, you can go to Medicare.gov to access a searchable directory of approved vendors.) You can also do a search online to find options that are available in your area, or stores that can deliver a hospital bed right to your door if you order over the Internet. A few of the numerous online medical supply companies include Specialty Medical, Health Care Supply Pros and The Homecare Warehouse.
Other Factors to Consider
When shopping for a hospital bed, you'll need to determine first if you plan to rent or buy this equipment. Many private insurance companies and Medicare will likely cover the rental (minus any co-pays and deductions), but if you purchase the hospital bed, you'll need to pay for it yourself.
In some cases if you rent the hospital bed with an option to buy, the rental price can be applied toward the cost of the hospital bed. (For instance, Medicare offers this option after they make 10 monthly payments. If you decide to purchase the hospital bed outright, Medicare will also cover some of the hospital bed's maintenance.)
Other Factors to Consider Include:
Do you prefer a semi-electric or full electric hospital bed, or will a manual model serve your purposes? Is incontinence an issue, making it essential that the hospital bed be easy to strip and clean? What type of mattress for the hospital bed do you want? The choices range from a basic foam design to a deluxe model with inner springs.
Keep in mind that for a bariatric (obese) patient, you'll need a hospital bed and mattress that are extra sturdy and will offer the utmost support.
Finally, what other accessories would be helpful with day-to-day needs and preferences? All of the answers should help guide you on what type of hospital bed you'll need.
What It Costs
What you can expect to spend on a hospital bed depends on exactly what features you select. A twin-size hospital bed will be on the lower price end, while a full-sized will usually be more expensive. A high-quality mattress, side rails, and other deluxe features will also add to the price. Whether you plan to buy the hospital bed outright or to rent for a while will also affect your final cost.
Here are some ballparks of what to expect with a basic hospital bed in each scenario.
Renting a Hospital Bed
A semi-electric hospital bed costs about $200 to $250 a month to rent.
A full electric hospital bed costs around $250 to $500 a month to rent.
A full electric bariatric hospital bed costs between $350 to $600 a month to rent.
In addition, some companies may charge a bed set-up fee for a price of between $50 and $100 on top of the monthly rental cost.
(Note that for rentals, most companies offer semi-electric or electric hospital beds, not manual options.)
Renting a hospital bed can cost from $100 to $350 a month.
Buying A Hospital Bed
A basic manual hospital bed price starts as low as $500 to buy.
A decent semi-electric hospital bed price starts about $1,000 to buy.
A good quality full electric hospital bed costs about $2,000 to buy.
A heavy-duty full electric bariatric hospital bed can cost as much as $5,000 to buy.
Buying a hospital bed can cost between $500 and $5,000, depending on what you select.
Extra Costs
Any special features that don't come standard with the hospital bed you choose, such as the mattress and bed rails, will be extra. You can figure these will cost about $100 each to purchase an economical option and the price can go up to $400.