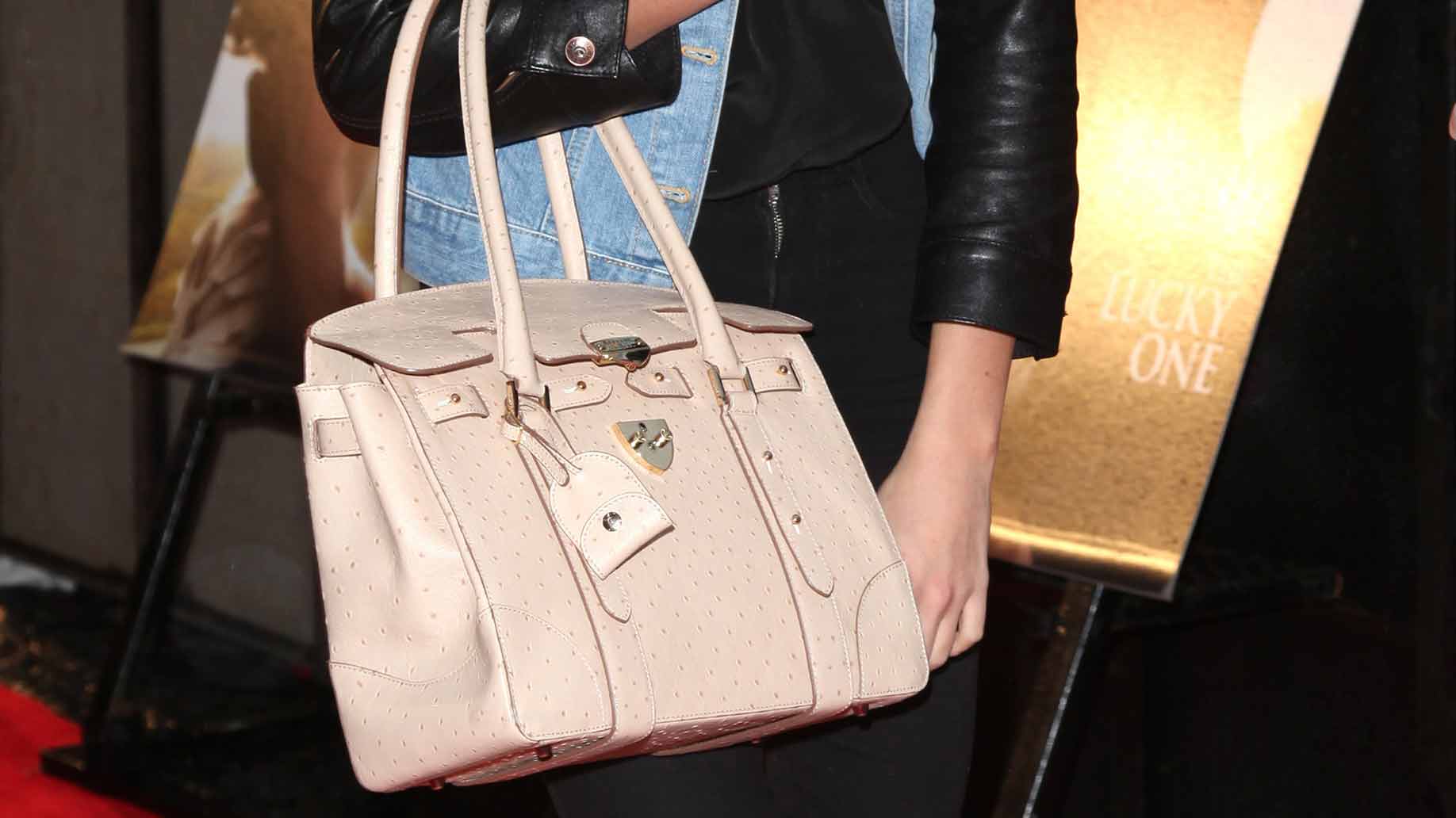 Ballpark Estimate: $5,300 to $50,000+.
Just how much would you be willing to pay for "the perfect" handbag? Perhaps the cost of a large mortgage payment? Or even the price of a luxury car? For some women who covet the luxurious Hermès Birkin bag, they are willing to pay all that and even more. Further, some of these women are willing to go on multi-year waiting lists, just for the privilege of knowing that when the wait ends, they will be carrying their wallets, cell phones and even baby supplies, tucked inside the elegant and finely contoured leather shape of fashion's biggest status symbol positioned prettily over one arm.
Best of the Best
If you are familiar with the Hermès name, you know that their handbags, as well as their other accessories, are truly the best of the best. Hermès is a ready-to-wear couture brand that operates its high-end boutiques in the United States and abroad. Women flock to their landmark stores in the hopes of scoring their own perfect bag, which are traditionally in low supply and high demand. Many stores have waiting lists for a Birkin, which can be anywhere from eight months for a basic style, on up to six years for a bag made of the most exotic leather. Celebrities and the very wealthy are often (but not always) able to surpass the waiting process to get instant gratification.
Fine Craftsmanship and Detailing
Each Hermès purse is hand-made by a highly-trained craftsman and can take as long as 48 hours to create from start to finish, according to an estimate by one fashion insider. Only the finest materials are used in the production of the bag, including alligator, crocodile, lizard, goat, calf and even ostrich skins, all of which are selected and tanned to achieve the softest, most buttery feel Birkin owners have come to expect and appreciate.
Other standard features that set an Hermès bag apart from the competition include tiny hand-stitching, dual top handles and gold or other high-quality metals used for details such as the lock, keys, buckle and protective feet. Each bag has an "H" stamped on all of its hardware and comes with a dust cover for the bag, as well as dust covers for the locks and keys that are a standard distinguishing Hermès feature. In addition, extravagant extras like pave diamonds set on the clasp are included in some exclusive (and highly sought-after) editions.
Further, all of the handbags come packaged in special tissue paper, which is carefully shaped (apparently by special Hermès craftsmen who are masters at this craft) into pillows to help hold the Birkin's shape.
With so much work involved in the production of a bag, the finished products are distributed to Hermès boutiques on an unpredictable schedule, making it even more challenging to secure one and accounting for some of the long waits. Generally, the rarer the skin that is used for the bag, the longer the wait will be. Instead of deterring perspective customers, though, this wait may actually make the bags even more desirable to the woman who wants to be at the top of the trend setter's list.
The History Behind the Name
The Hermès name began earning its fine reputation nearly 200 years ago as a manufacturer of handmade saddles and other equestrian leather goods. Since then, the brand has continued its focus on providing exquisite quality but has broadened out its product line to include a wide array of luxury items, including bed and bath linens, furniture, silverware, crystal and porcelain, home and office accessories, baby gifts and handbags. The line also recently added a women's ready-to-wear collection designed by Jean-Paul Gaultier and signature fragrances, too, by in-house perfumer Jean Claude Ellena.
The Birkin bag itself dates back to the 1980s. There are several variations on how this bag came into being, and while the details vary a great deal, one thing all of the versions agree on is that the bag was named for actress Jane Birkin. One popular legend is that the actress was seated on a plane next to Jean-Louis Dumas, the Chairman of Hermès, and complained to him about her current handbag, which wasn't adequate for her needs. The story goes that Dumas responded by designing a new bag that he named the Birkin. Other stories say that the bag was already in existence and the actress liked it so much that she started a trend and the name was ultimately changed in her honor. Other versions have Birkin carrying a similar bag in Dumas' presence that was made of canvas and this inspired him to design a high-end model for her. But regardless of which story, or parts of the different stories, is true and quite how the bag came into being, one thing that the fashion world agrees on is that the Birkin is the second purse in the Hermès line to be named after someone famous. The first is the Kelly bag, which took its name from Grace Kelly, who was a large fan of this style and even included it in a photo shoot for a magazine cover.
In Good Company
Many high-profile celebrities and fashion icons are frequently photographed carrying their Birkin bag (or bags). In fact, some Birkin owners have accrued a collection in different colors, sizes and textures. In addition, some of the popular television shows have also featured Birkin bags on their episodes.
One way to confirm a sighting of a Birkin bag, in addition to recognizing its unique tall rectangle shape that narrows at the top with a flap, is the lock that is usually enclosed in a "clochette" or special leather pouch that is attached. Generally, Birkin owners loop the pouch strap through one of the handles. This is a common look you will see if you watch celebrity TV or follow trends in print or online magazines. Of course, since flattery is the highest form of compliment, many Birkin bag imitations also exist. Keep this fact in mind so you won't forget that not everything that looks like an original Birkin handbag from a distance actually is.
Signs of Authenticity
If you are in the market for a Birkin bag, it's important to know the signs of authenticity. First of all, you should check the stitching of any bag that you are considering purchasing. A genuine Birkin will have very straight, even stitches that have a bit of a tilt to them. Fakes, on the other hand, usually have crooked, sloppy stitches that are a dead giveaway. Look at the interior leather zipper tag as well, since in the real deal, it is parallel to the hardware, compared with the fakes that are sometimes perpendicular. Also feel the leather to assess the softness and the weight, since these are important identifying factors of a real bag.
Further, you should know that all of the real bags have a gilt or blind stamp that says, "Hermès Paris, Made in France." There is also a craftsman id (usually with the first letter of the maker's name and date) that is included on the bag's handle. In addition, the locks and keys are also identified with a special code on them. Finally, the handbags made of exotic skins come with their own certificates.
What Such High Style Costs
The cost of a Birkin bag spans a wide range. They start at $5,300 and go on up to about $50,000 or even more.
For the price of a new bag, you not only get the prestige of carrying a piece of fashion history but you also can go into any Hermès store in the future and for a few hundred dollars, have your bag sent to Paris to be reconditioned at an Hermès purse "spa."
If you are in the market for to make such an investment on a new Hermès bag, you should know that the size of the bag affects the selling price, as does the exclusiveness of the materials used. In fact, one of the most expensive versions of the Birkin is made from porosus crocodile skin. Further, the smaller the scales on the skin, the more the bag will cost.
It is also worth noting that one of the most expensive Birkin handbags sold in the past few years was a special edition black crocodile Birkin bag with the clasp and luck encrusted in diamonds that went at auction for $64, 800. Quite a hefty price to be stylish!
If the price of even a more basic Birkin bag is well out of your range, you can look for a vintage or used one online (but understand that Hermès doesn't sell to other retailers, so these will be from private sellers or re-sellers). You can also check at local couture consignment shops. Keep in mind, though, that Birkins are considered classic investment pieces and as such, hold their value quite well. Therefore, even a used version will usually sell for least 50 percent of the retail price of what it was new.
Further, with the wide range of imitation Birkins that exist, if your budget is tiny but you are determined to get a tiny piece of the action in whatever small way you can, you can find a replica bag online for about $200. Keep in mind, though, that some of the popular fashion magazines regularly expose the negatives of buying replicas (such as supporting terrorism and also cheating designers), so if you do go this route, proceed with real caution.
With Beauty Comes Pain
If you are ready to take the splurge to add your very own authentic Birkin to your purse collection, you should be aware that the high cost of a genuine Birkin is not just in the money or time you will need to invest in this purchase. Many people who own Birkin bags find that the weight of the leather, which is much heavier than a regular purse, can cause real arm and shoulder pain. But if you love fashion and feel that the privilege of having a Birkin is well worth the expense, then take two aspirins and be prepared to wait a long time to ultimately write a very large check.