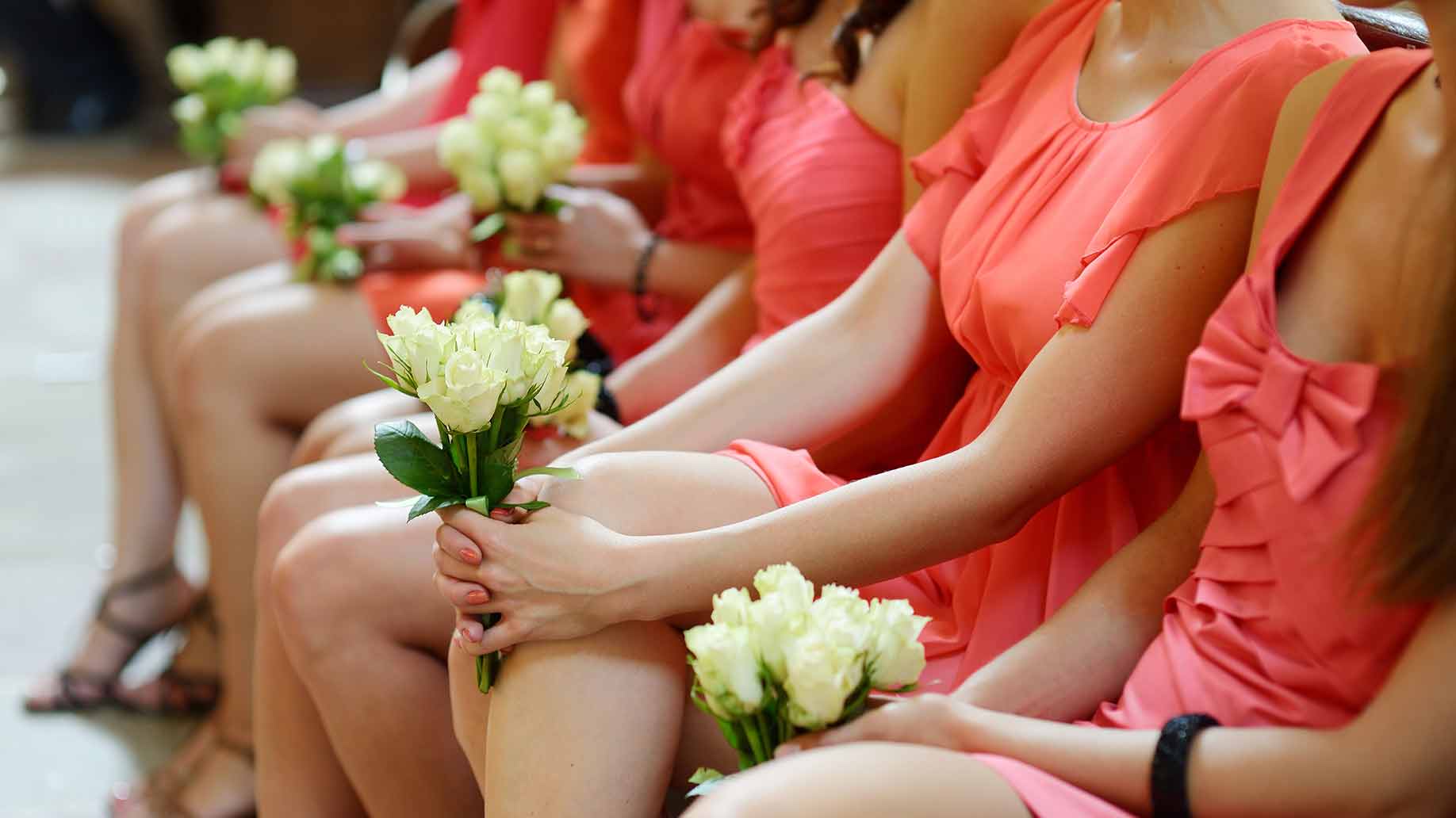 Ballpark Estimate: $100 to $300
Do you have any bright, poufy and ultra expensive bridesmaid dresses in your closet that you'll never wear again? If so, keep these in mind and try to be kind when you pick out bridesmaid dresses for your friends.
Cost of Being a Bridesmaid
Being a bridesmaid is a tremendous honor, but it can also be a tremendous financial responsibility at the same time. When all is said and done, many bridesmaids today say that they spend $1,000 or more to play a key role in a good friend or family member's wedding. Of course this isn't all spent on the dress, though. It also includes travel expenses, shower and bachelorette party and gifts.
A Range of Options
Do you want your bridesmaids walking down the aisle in a custom gown made of the finest fabric and created by a couture designer? Or would a simple off-the-rack dress be quite pleasing to you for its tasteful elegance and practicality, too? Your answer to this question can make a big difference in how much your bridesmaids will spend. But price won't be your only concern, since your bridesmaids can have different body types and sizes. When you are trying to find one dress that will be flattering on size 2 body and also on a size 16, this can pose many real challenges.
Be Creative
The experts recommend being creative to find solutions that will fit all of your friends' wallets and proportions. For instance, some brides get around this dilemma by selecting a manufacturer and fabric color that comes in multiple cuts and styles, then allowing all of the members of her wedding party to select the one that suits them best. This is a good way to add some individuality into your wedding and yet still maintain the overall color scheme while allowing your friends to wear clothing that compliments body size and shape. On the other hand, some brides find one dress style that does work for everyone and then has each bridesmaid wear it in a different color. This can add some individual flare and allows each participant to wear a shade that suits her personality and coloring.
Style Lesson
When you begin your search for bridesmaid dresses, you may want to flip through the pages of popular bridal magazines to see some of the latest bridesmaid styles. You can also do some searches online to find options that appeal to you. In addition, some brides plan a shopping trip with one or two bridesmaids and have them help pick the dress style. The color choices and fabrics vary depending on the season, but some of the current trends include A-line shapes, column styles, long gowns, deep colors and fine fabrics like silks, velvets, chiffons and satins.
Where to Shop
There are a number of places you can buy bridesmaid dresses. You can shop at chain bridal shops, local bridal salons, specialty boutiques or department stores. It's important to understand that a dress doesn't have to be officially labeled as a "bridesmaid dress" to work in this role, so don't be afraid to shop outside of the bridal department to find something you like that works with for your bridesmaids' figures and budgets.
Also keep in mind that if your bridesmaids live in different parts of the country, it can be particularly helpful to select a retailer that will be accessible to most people, such as Davids Bridal, Jessica McClintock, Macys, Saks, Bloomingdales, Nordstrom, Neiman Marcus, Kohls, JCPenney, and Sears.
Some of the moderate to higher-end women's chain stores are also carrying special occasion dresses, including Ann Taylor, JCrew, and Banana Republic.
Or, you can select dresses online through retailers that carry cocktail wear, including Bluefly, Amazon, and Zappos.
Regardless of where you shop, just be sure that your bridesmaids have their measurements taken by a professional if they will be ordering their dresses online, since the sizes can vary a great deal from brand to brand and you don't want any unexpected surprises when they go to wear the dress on your big day.
What It Costs
What your bridesmaid dresses will cost depends on the quality, style and cut you select. Here are some possible scenarios to expect:
Affordable Dresses
You can find many nice and affordably-priced cocktail dresses in the $100 to $125 range that will work well for this occasion. You can also consider prom dresses in junior stores or in the junior formal dress sections of some of the less expensive department stores. These will usually fall in this price range as well.
Formal Gowns
You can also select more formal bridesmaids gowns at small wedding boutiques, larger national stores, women's clothing chains or in moderate department stores that sell for between $150 and $300.
Fine Fabric Gowns
If you want something made from finer fabric and detailing, such as embroidery or beading, you can look to some of specialty boutiques, couture dress shops, better women's clothing stores and high end department stores. These types of places will offer an array of modern special occasion gowns, well-cut classics and eye catching designer creations. These can cost between $300 and $750 or even more.
So you can find bridesmaid dresses that cost between $100 and $750, but most brides today select options that cost $300 or less.
It's worth noting that some bridal salons will offer a discount of up to 25 percent if you purchase your own gown there and then order bridesmaid dresses from them as well. (If a bridesmaid's gown costs $200, this will save $50 per dress.)
Factor in Alterations
It's quite common for your bridesmaids to need to have their dresses altered to fit them perfectly. Alterations usually aren't included in the original price of a bridesmaid dress (although some better stores do include alterations at no charge, so always ask up front.) The price for tailoring the dress will depend on how extensive the work required is, as well as how ornate the dress is. The simplest alterations, such as shortening a dress, will usually start at about $20, while reworking the dress more extensively can cost as much as $100 if the fabric is layered or has boning, beading or other complicated detailing. Most alterations come in somewhere in the middle, though.
Extras
Some brides also request that their bridesmaids wear matching shoes, shawls, jewelry and hairstyles. If you as your friends to do this, remember that this can further increase the cost of participating in your wedding, depending on what quality items you select.
Footing the Bill
While many bridesmaids today pay for their own dresses to be in a wedding, it's worth noting that you may have friends on tight budgets and you will want to make an effort to be sensitive to their needs and limits. If you have your heart set on having your bridesmaids wear expensive designer dresses, though, this doesn't mean you have to sacrifice your vision. But it's perfectly appropriate to offer to foot the bill yourself for this extravagant expense, or to at least split the cost with them. This can really help your friends to be able to take part in your event with the least of stress.